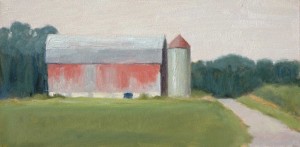 Evening farm
12″x24″ oil on canvas
$600
I love how this one turned out, that big weathered barn is so peaceful. I painted this from a photo I took when I was in Wisconsin for a workshop summer before last. After the workshop I had 45 minutes of driving to get back to my hotel and along the way I took lots of photos of the beautiful countryside. Luckily the workshop was in August so the weather was nice.
The sky on this day was actually blue, but I had a pink undertone and I decided to keep the pink sky. Somehow that lent itself to the overall calm feeling of the painting. I can ship this for $25.