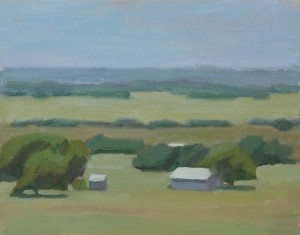 I spent this last week on Lake Travis (just outside of Austin) with my 13 year old son. We had so much fun, it was a wonderful relaxing week. We stopped at a scenic overlook along Highway 71 on the way to the lake. We had to get off the highway and drive up a winding road to get to the overlook, and what a beautiful scene that unfolded as we turned into that little 'scenic overlook' area.
Ever since I painted a hill country field plein air a couple of weeks ago, I've been interested in capturing the distant fields. I love how the colors turn lighter and more grey as they get further and further away. God's glory is so apparent when I look out over the Texas fields and hills on a summer day.
This painting is 11″x14″ oil on canvas.