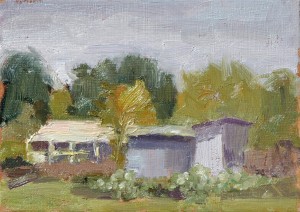 I continued to paint small panels from my car every day I could. There is a farm road that we usually take walks on and I drove down that road one afternoon. I found this pretty grouping of buildings with a small house in the background. I parked under a tree and painted the scene on a 5″x7″ canvas. There was no traffic on that road so I probably could have set up my french easel, but it is so easy to paint from the car and it's nice not to have to spend the extra time setting up. It was a beautiful day and I had the best time painting.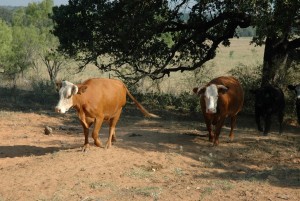 The next day I headed out with the intention of painting a white farm house, but the sun wasn't fully on the house so I decided to save that for later. I drove down the same farm road I was on the day before, thinking I might see some cows in pastures. I didn't see any cows so I turned around, having to do about a 12-point turn on the narrow dirt road, and then I noticed there were cows in the pasture after all. Goody, cows. I thought I would take a few photos so I hopped out of my car and noticed they were all heading toward me, or rather, my car, thinking I was their owner coming to feed them. Then I noticed the gate was open and they were coming out of the gate. I didn't really get any good photos, I was in too much of a hurry to get back into my car and out of there. But here is a photo I snapped as I was driving away. I would love to paint cows from life but I need to ask a farmer for permission. That just hasn't happened, yet.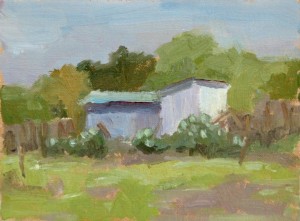 After the cow incident I decided to paint the same grouping of structures I had painted the day before so 2 minutes later I parked my car. This time I omitted the house and just painted two little buildings with cacti in front of them. I used a 6″x8″ panel. Halfway through this painting is when I got the call from my neighbor that we had power back on at our home in Houston, so this was the last painting I did on this trip.
I did paint my mother earlier in the week, I'll post that next.