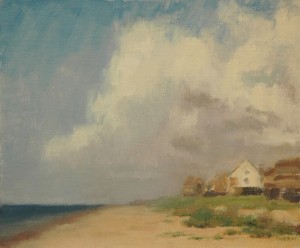 Beach Houses  10″x12″ oil on canvas
It's that time of year again when the American Impressionist Society Exhibition deadline is here! I had paintings in mind to paint specifically for this competition, that would be the "great paintings I need to paint for AIS" that I kept telling myself to do. But in the end, I chose two recent paintings that I thought were my best. That's probably the most realistic way to choose a painting for a competition for me: paint what I love and in the end sort through them.
The first one, a beach scene from Galveston Island, Texas, was practically still wet when I photographed it. Our family went to Galveston for the first week in June and I painted it plein air. It was hot and it took me two morning sessions, but I ended up with a painting I am pleased with.
*Edited: The above painting, "Beach Houses" was accepted into the exhibition!!! So happy!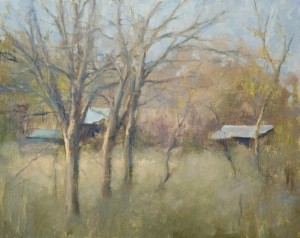 Secluded Barns  16″x20″  oil on canvas
This second painting was painted from a photograph. My husband was driving 70 mph, he might have slowed down to 55 or so, but I don't always see the good scenes coming up to give him warning, and I shot this out the car window. To give my husband credit, if there is something I really want to photograph, he'll even turn around and go back and I'll get out of the car and take as many photos as I want. The rest of the family waits patiently in the car (as far as I can tell, usually the windows are rolled up and I can't hear anything). Anyway, I imagine they are waiting patiently in the car.
In retrospect the slight blurriness that accompanied the photo I used probably helped me paint this one a little looser than I normally paint, or one might say "impressionistically", if that's even a word.
So, fingers crossed til July 1st when AIS will announce which paintings will be accepted into the show.