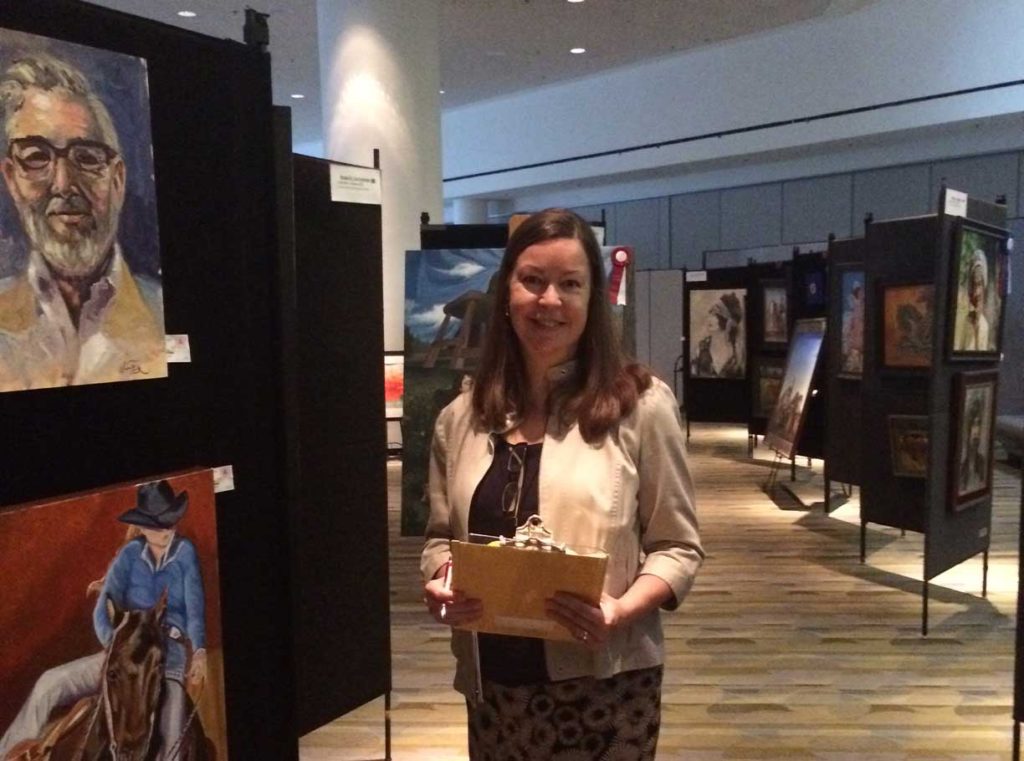 Last weekend I was privledged to judge the Lone Star Art Guild show at their Annual Convention and Art Show. The Convention and Art Show was held at the Flour Corporation in Sugarland, Texas. It was a fun and educational experience to judge this show.
I was one of three judges. The three of us chose the Best of Show in 5 categories together. Then the 500+ paintings and sculptures were divided among the three judges to award 1st, 2nd, 3rd, and honorable mention in each category. And there were a lot of categories: Professional, semi-professional, non-professional, adult student and school student.
So there I am with my clipboard, looking official! The Art Guild even provided two volunteers to walk with me and take notes on which paintings I awarded ribbons. I am friends with one of the other judges and the third judge was great to get to know. Overall, it was a very well run show and the three of us judges were treated a bit like celebrities with our volunteers trailing after us and a lunch of our choice brought in at lunchtime!
I arrived about 10:15 a.m. along with the other two judges (I carpooled with one from Houston) and we began judging at 11:00 a.m. By 12:30 p.m. We had walked through the entire exhibit …. very slowly …. and picked Best of Show for 5 categories. (Don't ask, there were a separate group of categories just for Best of Show.) Then it was lunch time. I know the show organizers were getting a bit nervous because it was 12:30 p.m. And all we had done was pick Best of Shows and the judging was to be completed by 3:00 p.m. We had a nice lunch. Now it's 1:00 p.m.!
Not to worry, it was very helpful to walk through the show with the other two judges and discuss the entries. After lunch when we split up to each judge our own section – I had Mixed Media, Abstract/Non-Representatinal (harder than I thought it would be!), and Photography – it went fairly quickly because I had discussed each if those sections with the other two judges. As a side note, most large competitions are judged by multiple judges together as a consensus.
So the judging was done and the three of us judges got 30 min to relax while the show volunteers pinned ribbons on the winning paintings. At this point throngs of people were waiting behind ropes to get into the exhibition.
The Art Guild had asked the three judges to stick around and offer critiques after the judging. And sure enough, each judge had a line of artists waiting to have their work critiqued. I was a bit nervous about this part but it was actually pretty fun. Most of the people that asked me had been awarded ribbons. and just wanted to know how to improve their paintings, or what made me award their work a ribbon.
Except for one man. He did not get a ribbon and his question was "Why didn't I get a ribbon?". This is where I as a judge had to stand behind my decision to award other works ribbons. At this point it's important to be sensitive and encouraging. All the work in this show was there because it had already placed in a regional show during the last year, so I was only judging fine work.
It was a fun day and I was happy to be a part of ultimately encouraging artists along their path to creating their best work!