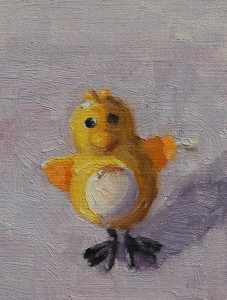 This painting was in the glove compartment of my car. I'll explain. When we came back from the hill country I had quite a few wet paintings so I had to find places to stash them safely for the 4 hour drive back home, I put them in boxes, in the cooler, in a special wet canvas holder my son built for me, and now I remember: the glove compartment.
I painted this the second day at my mother-in-law's house. I bought some lemons at the store, borrowed a beautiful little bowl and headed downstairs to get set up to paint. Then I saw this cute little toy on a table. I grabbed it instantly and decided that's what I wanted to paint. I never did paint those lemons.
This little wind-up toy was fun to paint. But if you want to see some real paintings of toys, visit my friend Diane's website. She is a master at painting old toys, among other things.