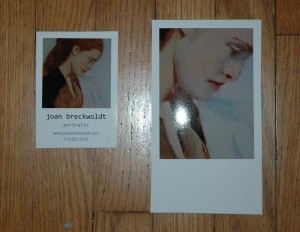 I'm out of business cards so I need to have more printed. I'm thinking of doing either the smaller card which is still larger than a standard business card at 3″ x 4 1/2″ OR the larger card which would double as a handout at shows. It's more like 4″ x 7″ and will have the same text as the smaller card. Though I've decided the card should say 'artist' instead of 'portraits' mainly because I want to keep my options open. 🙂 Sorry about the white spot from my flash on the big card.
I don't get that many opportunities to hand out business cards, I use them mostly at shows. And if I'm somewhere and someone asks me about my art, I'm comfortable handing them the larger postcard.
I would love to hear about other artists' marketing materials!