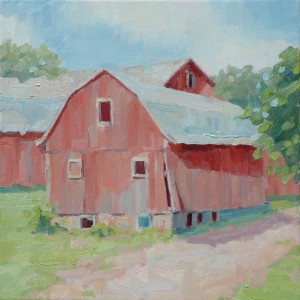 I am back to painting barns after a nice vacation to Maine. Ready to get back to some familiar territory, painting things I'm not used to painting should probably be as easy as painting familiar things, after all, we just "paint what we see", right? But it wasn't easy at all to paint unfamiliar things like rocks and boats and water (!). So I'm ready to dive back into painting things on land. ("Dive" back into painting things on land? I need to learn to speak English, that's probably mixing metaphors or something . . . . )
This is 12″x12″ oil on canvas. It's from a photo I took last summer. I can never have enough photos of barns and I found myself going through my photo files and the design elements of this photo jumped out at me. I think that barn in the foreground has some personality.
I entered 5 paintings in the National Society of Artists 26th National Juried Show and I'm waiting to hear if any of them got into the show. I went ahead and entered five, partly because the show is being held less than an hour from my home and I can drive my paintings to the show instead of shipping them. So, I've got my fingers crossed, hoping for my SASE envelope to come back in the mail with an acceptance enclosed. The letters were mailed out Saturday.