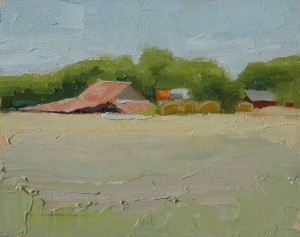 This is a farm in the Texas hill country. I could just see it over the rise of the field from the highway. For this my husband stopped the car and I got out to take a bunch of photos. Like he had a choice. 🙂
I am working on simplifying my paintings, but it's so hard to stop myself from putting in the details. I think with this much going on in the painting it needed some of the details to define the scene. I'm crazy about that orange water tank, or whatever kind of tank it is. I just love painting barns, this was fun. It's 8″x10″ oil on linen panel.
I have been reading a book about Mark Rothko and the Rothko Chapel, which is here in Houston. The book is called "Image of the Non-Seen: Search for Understanding". Now, some of the paragraphs are very philosophical and I can only read a few pages at a time, then my brain needs a rest. When I find myself still asking "huh?" after I've read a sentence 3 or 4 times, it's time to put the book down for a while.
The point of bringing up this book is that I came across a quote that I like by Henri Matisse. "The essential thing is to work in a state of mind that approaches prayer." I interpret that as being so deep into the painting that the painting takes over, there's no room for thought or technical aspects of a painting, no room for making conscious decisions. I know what it feels like to be very deep in prayer, so I'm trying to relate this painting quote to that feeling.
For me, the "take home value" from this quote is to stop and contemplete what I'm about to paint, not to rush into the painting like a bull rushes to a red flag. That's how I paint, I get so excited about what I'm going to paint that I just jump right into it. So, for this landscape, I tried to slow down. I was pretty succesful at the beginning of the painting, but then I forgot about slowing down and just got carried away with the painting as the painting progressed. Though maybe that's what Matisse meant? See what I mean, hurts my head.