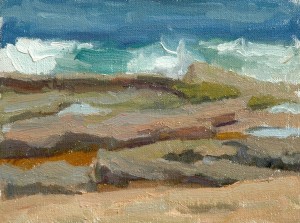 My wet panel carrier arrived from Maine. I ordered the thing especially for the trip. It works perfectly and is beautiful, more discussion and photos below.
When I opened up the wet panel carrier and took out my paintings, most of them were just as I had remembered. Studies that had some good things about each one and some things that need to be improved upon. But I was pleasantly surprised to pull out this little 6″x8″ of the rocks on the beach.
I painted this the second time I went to the beach called Wonderland on Mount Desert Island. This time my family left me there while they went back to the Jordan Pond House for more popovers. Ha, popovers are the last thing I need! And anyway, I would rather paint than eat popovers. Below is a photo I took of my set up, I sat on those rocks for a couple of hours while I painted.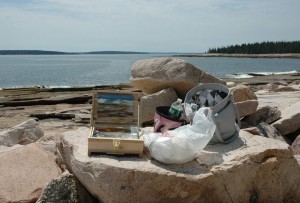 Below is my wet panel carrier. I ordered it from
Artwork Essentials
and it was $69 plus $16 shipping. It is 10″x12″, the paintings you see in the carrier are 8″x10″ paintings. I also put in a bunch of 6″x8″ panels. The remaining area I used for shipping paint. You could take out the divider and store 9″x12″ panels, or any other panels that are 12″ wide. Two panels fit back to back in each groove, so the wet sides of the panels face outwards.
Not all wet panel carriers are made with grooves big enough for Gatorfoam, but these grooves are wide enough. This carrier holds 10 panels. If you're going to buy a wet panel carrier, make sure to check if it'll carry your particular painting surface: birch panels, stretched canvas, or Gatorfoam panels.