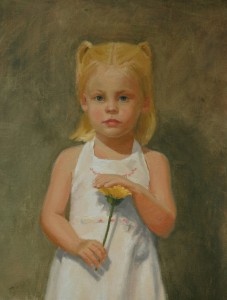 I have finished the portrait I've been working on and have put it on my homepage. Taylor is a beautiful little girl with an angelic face. Portraits are a lot of work for me, but so worth it in the end. It's like having a baby, all the pain is forgotten immediately when you hold that new life. If I'm successful, I feel like I've given life to a portrait when I'm finished.
It is such an honor when someone asks me to paint them or a loved one. It's a blessing to have that connection with the subject, and also the ones commissioning the portrait. I get attached to my portraits. I think anytime we create something and put some of ourselves into it, it's natural to become attached.
Painting is a meditative process for me and as I've spent many hours with this portrait of Taylor, my mind was filled with pleasant memories of the day I took her photo. And of her sweet grandmother, who is a friend of mine, who commissioned this portrait. My hope is that this portrait will bring a thousand fold good memories to Taylor's family.
This portrait is 22″x28″ oil on linen canvas.