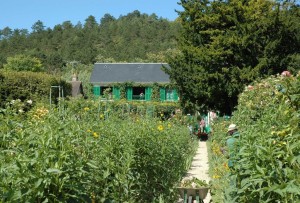 Today was an amazing day, we took two subways, a train, and a bus, but we made it to the small village of Giverney to tour Monet's gardens and home. All I can say is: WOW! The gardens, the lily ponds, I loved every minute of it.
Monet lived in his house at Giverney the last 34 years of his life. He loved gardening and created this entire world with his gardens. His house is quite large and one side is right on a street in Giverney, the other side faces huge gardens. And they're the informal english type of garden. The entire garden consists of rows of beds with dirt/gravel paths running between them. The rows might be 5 feet across and maybe 80 feet long, it's a huge garden. The rows are planted by color. One row will be full of yellow flowers: huge sunflowers, and, uh, other yellow flowers. I am not a gardener, when I see all the pretty flowers put out by the grocery store in Houston as spring approaches, instead of getting excited about planting flowers, the sight of all those flowers for sale brings on stress. Stress because I feel like I should be planting a garden. My mom planted a garden, so I should too. Anyway, I was inspired by what I saw today. We'll see how that translates to the actual buying of flowers and planting them when I get home.
The lily ponds were behind the vast gardens. We actually had to walk through a tunnel under a street to get to the ponds. I'm assuming that street used to be hardly traveled at all, but today it's quite busy. The lily ponds were beautiful, it's mainly one long wide pond with a foot bridge at each end. There are a number of beautiful and huge weeping willow trees around the pond. The leaves from the weeping willows are reflected in the majority of the water, which is a pretty backdrop to the water lilies.
There was even a mid sized wooden fishing-type boat on the pond, a gardener was in the boat and fishing out the undesirable part of the water lilies. All in all I think I saw 4 people working on the pond and the gardens today. No wonder it's all so . . . so exquisite.
Naturally I took a lot of photos today, mainly of the water lilies. I tried to take some photos from the train, but the tracks are mostly tree lined so I got a lot of blurry foliage. And a lot of poles. I think I got two good photos from the train today. But I have enough photos from Giverney to paint for months!
There is a small museum in Giverney so afterwards I went into the museum. They have an exhibit of American artists so it was informative for me to be introduced to new (to me) artists. I'll enjoy looking up more about the half dozen artists I found today when we get back home.
Today was a wonderful day, what a treat to be able to visit Monet's gardens and home! Tomorrow we're going to the Louvre, it opens at 9:00 am and we're planning on being there when it opens.