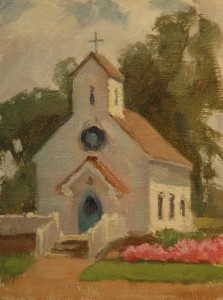 Round Top Church 6″x8″ o/c SOLD
My friend Myrrh and I had another great day of painting. We left Houston early for Round Top, a small town an hour and a half northwest of Houston. We found a perfect place to paint, a wide spot off a farm road with views of fields, cows, haybales and distant barns.
Here I am painting a small 6″x8″ study. I was feeling fresh and confident this morning so I first grabbed a 10″x12″ canvas. It was windy and I had my umbrella set up, after the wind caught the umbrella and tumped over the easel, I started holding the umbrella stead with one hand. That was no way to paint, so I took the umbrella down and moved over to a shady spot.
Turns out I'm not the only one that likes a shady spot . . . more on that in a minute.
I tossed the 10″x12″ canvas onto the grass, I didn't want to waste precious time now wiping off my failed efforts. I grabbed an 8″x10″ and started again. Tossed that aside. Picked up a 6″x8″ and gave myself the goal of just putting down the colors of the sky, trees, and fields sucessfully. Argh, a bit frustrating, but I was able to study the colors out there which is the whole purpose dragging my supplies 90 miles to paint.
Next we drove into Round Top and found a picnic table under some trees in the center of town. We had spent some time taking photos today and it was already after noon, we had decided we would head back right after noon today. But as we sat there I could see a beautiful old church on the square. I really wanted to paint something I felt was a success, especially after driving so far. So Myrrh obliged and we spent another hour and a half painting. She chose a spot off under the trees (in the shade) behind the church with a veiw of a field and I stood out in the middle of the grassy square and painted the beautiful church.
Usually every time we are out painting, there is at least one encounter with someone. It's either a truck stopping to make sure we're okay if we're on the side of the road, or curious tourists wanting to see our work, and once someone asking me to pay them for painting their property! Today a man came along and asked if I knew anything about the church.
Turns out it was kind of a rhetorical question. He was the property manager for the shops around the square and had just participated in the renovation of this little church originally built in 1850. He offered to give us a tour after we finished painting.It's a beautiful little church and weddings are still held either in the church or on the steps of the church.
Here is Myrrh on one of our many many stops to take photos.
Getting back to my point earlier that I brought up about the shade. Who else likes shade? Chiggers! Unbeknownst to me, about 100 chiggers climbed onto my feet and legs while I was trying to paint. A couple of days later I woke up at 4:00 a.m. wondering what was going on, why did I itch so much? Then I saw 100 red bites! To use a phrase I heard Myrrh say, that place was a "chigger factory". I learned my lesson well, now I make sure and use bug spray with DEET on my shoes, legs and pants. And I was wearing longs pants, socks and tennis shoes, but that didn't stop those nasty sneaky little things. Lesson learned.