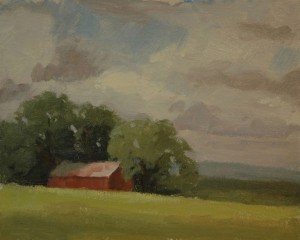 Summer Barn  8″x10″  Sold
The owner of the property came by and told us they were going to tear down this old barn soon.  Notice the big pile of dirt in front of the barn, I left that out, in face I hardly noticed it while I was painting. Just blocked it out. This was an absolutely beautiful spot and I remember saying to Myrrh that I couldn't be happier, what a great way to spend the day.
Next we decided to try a couple of little roads off the main road. We turned on a promising road called Krebs Road. We reached a peak and could see for miles and miles in all directions. Saw fields and barns, so many possibilities! We settled on this barn way off in the distance. One lonely cow in this giant field complained about us setting up but eventually wandered off.
By now it was around 1:00 p.m. and lunch time. Myrrh looked at the map on her phone for the nearest town. Industry. Never heard of it and it didn't hold much promise for lunch but we headed that direction. Our back up plan was a town 20 minutes past Industry.
We came to Industry, which was one intersection and a sign that said "population 305". We found a BBQ place but it was closed. And questionable anyway. At the intersection we found a combination Shell station/nursery/meat market/hardware store/grocery store and cafe. Well, not exactly a cafe, but they sold ready made sandwiches and had 3 tables near the bathrooms. Perfect! We had lunch and bought some paint thinner to clean our brushes. It was nice to be in the air conditioning for 30 minutes before we headed back out.
A mere 5 minutes down the road we saw two barns perched on top of a hill. And a nice side street for us to safely park on. Four cars went down that side street while we were painting and every one of them stopped to see what we were doing and talk. That's part of the fun of paining plein air.
By now the clouds were getting thicker and I heard thunder in the distance. I thought about putting some blue in the sky to make this a happier painting but decided I wanted my painting to be an accurate memory of that place and time.
After this last painting we headed home, taking photographs along the way. I pulled up in my driveway at 6:15 p.m., almost 12 hours after I left that morning. It is so refreshing to be outside and surrounded by God's beautiful creation all day long!