I
headed out early on an overcast day with three friends to paint plein air. At the end of the day I ended up with one good painting, one . . . what can I call it, a throw-away, and some fudge. Not to mention lots of fun. It was a wonderful day.
We found this lovely little barn (if a barn can be lovely, and I think they can be) among the tall oaks about an hour northwest of Houston. We set up just off the road. The sky was overcast but that shed a beautiful silvery even light on everything.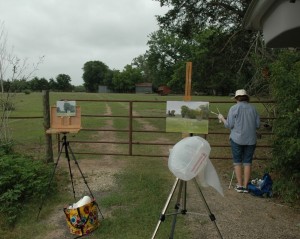 It was very windy though and we all had to chase something down the road that day: a hat, paper towels, bags. That's my set up on the left.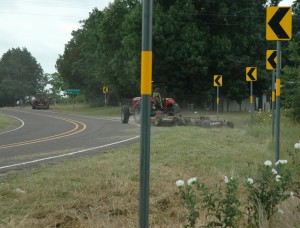 For excitement/distraction some mowers came by. First an army of workers came by and collected all the trash along the side of the road. Then came the mowers. It was very exciting when one of the mowers ran right over one of the trash bags.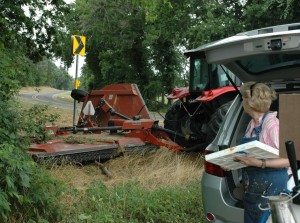 That one's a little close!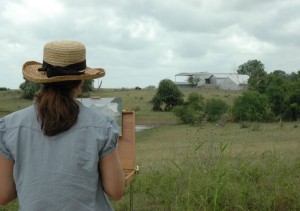 After the first painting we drove less than 5 minutes and decided to paint these white barns against the grey sky. This was good practice and it's always fun to put paint on a canvas, but the painting didn't turn out the way I had envisioned it. Oh well, like I said, I got one good painting out of the day, one bad, and . . .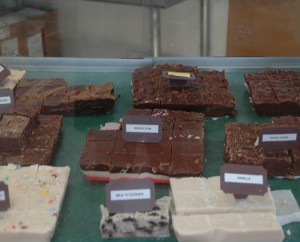 . . . fudge from a little market along the highway that was delicious. I'm happy somebody gets up early and makes all that fudge and it's just waiting for us. A perfect dessert. Oh, did we have lunch? Actually we did, we had BBQ.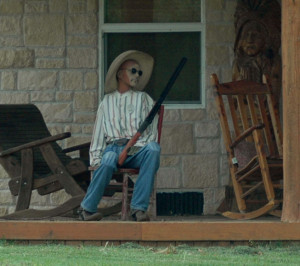 What can I say about this? As we were driving around we noticed this scarecrow (?) sitting on the front porch with a shotgun! We went back for a photo and pulled up in the driveway to turn around. I took a photo or two. The message was clear, we were in the driveway for about 15 seconds! Scary? Little bit.