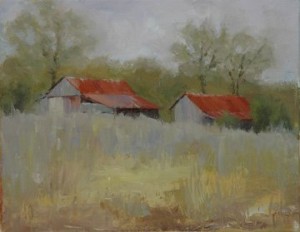 My husband, kids, and I go up to the hill country occasionally and I take along my paints and canvas.
I have loved the old cedar barns that dot the landscape since I was a child. I take lots and lots of photos for reference material, but there is nothing like being outside and painting from life to capture the effects of light.
A couple of times I've even talked my family into taking a drive when we're up in the hill country. The purpose of the drive is to scout out old barns and take photos. I call these outings "photo safaris", hoping that'll sound like more fun to my kids, who are 12 and 16. Once we're in the car with ample snacks and our lunch packed, they have more fun than they like to admit. We explore backroads so we don't see many other people, just the occasional rancher. We do see cows, horses, goats, deer, rabbits and sometimes even a skunk.
When we're on highway with a 4 hour drive ahead of us, whether we're on our way up to the hill country or on our way back, then we don't stop. I take photos anyway. Some of them are blurry since we're traveling at 70 mph, but once in the while I get a beautiful one. I just developed a painting from one of these drive-by photos. I'll add it to my website soon, it's of two old cedar barns nestled behind a small rise, backed by trees. I just used the photo for reference and painted the painting with a feeling of seclusion in mind, hopefully that came through in the painting.
This painting is 11″x14″ oil on canvas.