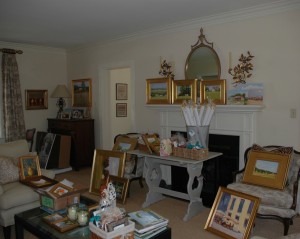 My daughter and I are back from our trip out to California to look at colleges. We had a great time: we saw four colleges, sat next to a celebrity at The Ivy in LA, experienced a 5.4 earthquake, went to a number of beaches, drove along the Pacific Coast Highway, ate a lot of $9 sandwiches, and a lot more.
But now I'm back and it was time to go and clean out everything in the space I'm no longer going to rent at the antique shop. I was able to bring home everything in two trips, but what a mess our living room is now! The living room looks like a shop. Now that I don't have the shop to hang my paintings, I'll have to figure out a place to store them in between shows. The first thing will be to try and get rid of (well, . . . sell) some of the larger paintings just so I don't have to store them. I'll be in a two day show at St. Martin's Church here in Houston on October 3 and 4, hopefully I will sell some of the larger paintings there.
Oh, I do have a storage unit but I don't really want to drag all these paintings over to the storage unit. And I want to get rid of the storage unit because I don't like paying that rent every month. Though I have been saying that for about a year now. Soon though, I'm really going to get rid of it. So it goes against my grain to put more stuff in there.
The good news is that the three paintings that went out last week to a designer have sold. The designer brought them to a client in Austin, they liked them so I'll get a check Aug. 15th. That was a nice way to end my already good experience at the shop.