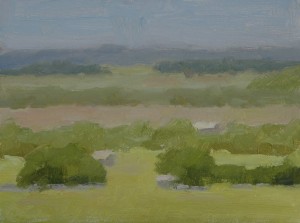 I am really enjoying being in Gay Faulkenberry's workshop, she is so pleasant to be around and is very giving with her instruction. She manages to answer every question I have thoroughly, I think it helps that the class of 9 students are all good painters and are all very intent on their paintings. Gay did another demo this morning of a beautiful still life set up. I forgot to take pictures.
As Gay was setting up and painting her demo, I was at work on a landscape from a photo. I knew I had to leave early today so I wanted to get started painting first thing. I can see that I am at a disadvantage painting from photographs, but I have to work with what I've got. And I am motivated to paint more from life. Tomorrow I may put my easel outside the classroom, there's not much out there but a parking lot and some little businesses but at least that way I'll be painting from life. That sounds good now but we'll see about it tomorrow.
This landscape I'm posting is a small one, 6″x8″ oil on canvas. My purpose today was to do a study of distance and how trees and fields are affected as they recede into the distance. Gay has painted outside so much that she can look at my photo and interpret what she sees, she knows when something really should be lighter or darker, greener or more blue. I learned a lot today and I had fun working on this painting. It would be smart to paint a bunch of these little studies, all of distant fields and trees. Tomorrow, sadly, is the last day of the four day workshop, but I've taken away enough from this workshop to keep me busy for a long time. I think that's the mark of a good workshop. I am always excited when a workshop is like a springboard, propelling me on to new ideas and new things to try.