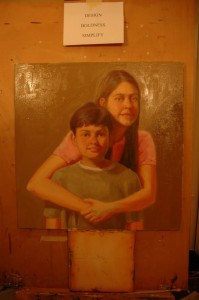 I'm working on a 24″x24″ portrait of my two children in oil. I've been working on it for hours each day and I'm almost finished! Today was a great painting day, it rained all afternoon and I was tucked away in my studio painting. I have just a little more work to do on this portrait and then if tomorrow is a sunny day, I'll take a better photo and post it.
Whew, what a relief to have this done. I'll really be happy when it's dry, varnished, framed and hanging in our living room.
Oh, up there at the top of my easel I have a sign that says "DESIGN, BOLDNESS, SIMPLIFY". These are the elements that I try to keep in the forefront of my mind as I paint, though to be honest, now I'm so used to that sign I hardly notice it anymore. Time for a new sign, maybe in red ink this time.