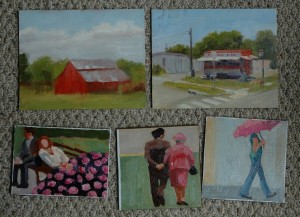 My studio needed cleaning so I've been spending a little time each day straightening and organizing my studio. Sorting through my canvases I came across a couple of 8″x10″s that I decided to varnish, frame, and put in the upcoming group show this weekend. I also had some smaller paintings from months ago that I painted on unmounted linen canvas. I've chosen 5 to sell so I mounted and varnished them and I'll take them to the framer tomorrow.
I painted on linen canvas that I cut and taped to a piece of foamcore, that way if I didn't like what I did it wasn't a big loss, but if I did I could mount (with Yes! paste) the linen on a support. This is the first time I've tried this, I learned it from Lesley Rich, and it seems like a pretty good idea. It's an especially good method for painting while traveling.
There is a red barn, a taco stand I saw in North Houston one day, and three smaller paintings which I hope are self explanatory. 🙂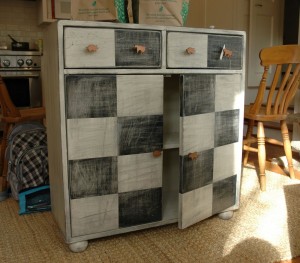 As part of my clean-out-the-studio enthusiasm, I've decided to replace the old rickety cheap taboret I've been using to hold my brushes, paints and palette. I found this cute cabinet today at a resale shop and it's really the perfect size for a taboret. Yes, the knobs are in the shape of pigs and cows, I think it gives this "taboret" some character. Two good drawers at the top will hold my paints and the storage below will be for all the other junk I have. It's in my kitchen, I'll have to wait til my husband gets home to help me move it upstairs to the studio.