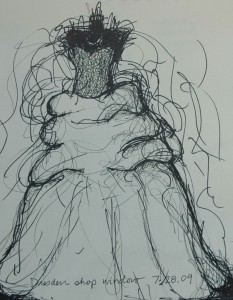 On to Dresden, what a beautiful and elegant city. My favorite thing we did while in Dresden was go to the viewing balcony on top of a domed church and view the city 360 degrees. The city is full of gold and turquoise church domes topped with shiny gold crosses or gold dipped statues. The buildings are dotted with statues and at every turn there is a statue or monuement – most still blackened from the fires of WWII.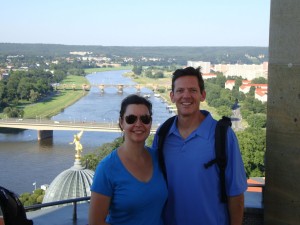 Not far from our hotel was a bridal shop so I stood and did a sketch of that. There was no place to sit down! That same evening for dinner we ate at a cafe across the street from that very bridal shop so I positioned myself with a view and after dinner I sketched just the dress in the window (above).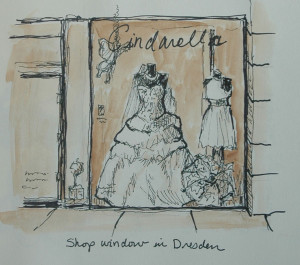 One evening we had dinner near one of the large squares in Dresden, the Altmarkt or Old Market, where markets have been held for hundreds of years. My husband took the kids for ice cream and I walked a block over to the square and sketched.
I had brought along one paintbrush and one tube of watercolor paint, so this time I added some watercolor for shading. I used a bottle cap to hold just a little water and dipped my brush in that. This was so much fun, I loved being in that huge open square sketching, and I even found a bench to sit down on this time. Three young German men came up to see what I was doing so I got to practice my German and they got to practice their English.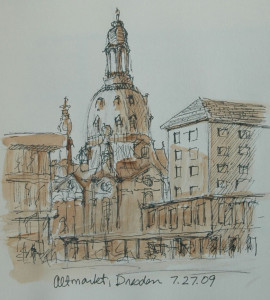 More from Dresden tomorrow.