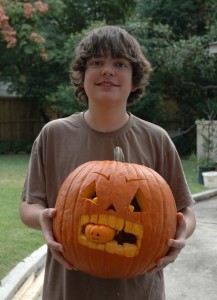 Here is my son with his "Cannibal" pumpkin. I think he's carved about 5 pumpkins this week, it's a lot of fun to see what he comes up with. Not everything is scary, he carved Bugs Bunny too.
I'm getting tired of my studio remodel so I can only imagine how boring it must be to read about it! Since we're putting in a dormer with north light we needed to remove part of the roof and since we removed the ceiling we had to make sure the flashing against the chimney was leakproof. All that meant we might as well remove the roof and put on a new roof. Here are the roofers taking off the old roof.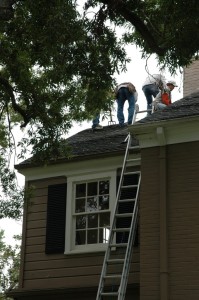 Below is our contractor after part of the roof has been cut out for the dormer. That dormer is supposed to be built tomorrow!