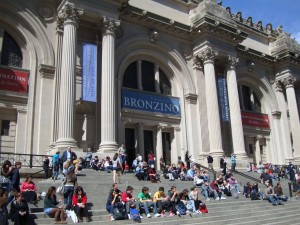 My husband and I are back from celebrating my birthday in New York City for the week of Spring Break. Our kids had their own plans so it was a perfect opportunity to get away together. My husband planned the trip, he thought taking me to a place full of art would be a great birthday present for an artist and he was right. Above are the steps to the Metropolitan Museum of Art, our first stop.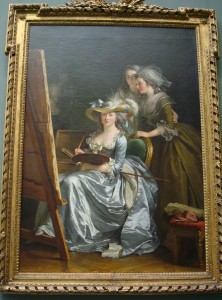 After we bought our tickets, checked our backpack and went to the second floor to see the European Paintings, this painting was one of the first that caught my eye. It made me smile. This is
Self-Portrait with Two Pupils
by Adelaide Labille-Guaird (French 1749-1803). Look at that outfit! It is the polar opposite of what I wear when I paint. Though I do have that same hat. 🙂
What a wonderful day we had, I loved all the Rembrandts and Vermeers, the Peter Paul Rubens, and discovered some new artists. After the European Paintings we took an hour long tour of Egyptian relics, that was interesting and there was a lot of information packed into that one hour, and it was a nice break from looking at paintings. We had lunch in the cafe next to the (indoor) sculpture garden, it was peaceful and bright and nice to get off our feet for 45 minutes.
Next we went to see the Impressionists. We both loved the Van Goghs and the Cezannes. I loved the paintings with a lighter palette by Berthe Morisot. Then came the Sargent: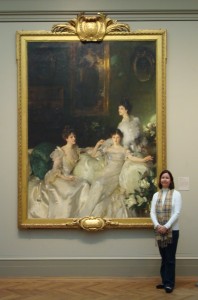 John Singer Sargent, (American 1856-1925)
The Wyndham Sisters
, painted in 1899. This painting is 115″ tall and 84″ wide, wow! This painting is awesome, it was commissioned by the Wyndham family for their home in London. It is masterful, look at those cream colored dresses against the cream sofa. I probably spent a total of an hour in front of this painting and it's my new favorite painting of all time.
I finally dragged myself away from this painting and it was time to leave. We stayed in a lovely hotel 2 blocks from the Met so we walked back to our hotel and put our feet up for a while. I had brought along a book and was happy to have a good book to relax with. Later we walked to a restaurant for dinner.
I love the NYC restaurants, first of all, when we ask for a "casual" restaurant recommendation, we get restaurants with white tablecloths. "Casual" means something else here in Texas. And I love how the NYC restaurants are so cozy, so full of energy. We had some great food, especially Italian, and we had some delicious seafood. We found a little juice shop around the corner from our hotel so that became our breakfast spot, they had vegetable juice, smoothies, croissants and muffins.
Tomorrow, the MOMA.