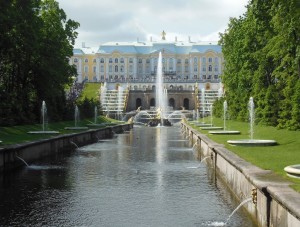 Construction on Peterhof Palace was begun in 1714 by Peter the Great, who was credited with founding St. Petersburg. Peterhof Palace was an outpost for Peter the Great as he travelled to Europe and later served as his Summer Palace. It sits on the Bay of Finland and didn't seem very summery to me, and we were there in June, but I suppose it's all relative. It wasn't as fancy when Peter built it, he didn't really care for all the lavish styles, but it's been added on to and redecorated in the last 300 years. It was bombed and burned almost completely during WWII but now has been almost completely restored. It's 45 minutes away from St. Petersburg on a hydrofoil boat, which was a new experience for me, but one I liked a lot.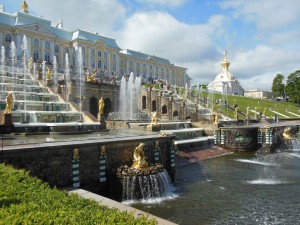 It's surrounded by huge formal gardens and ponds. There are also a few "trick fountains" that soak guests as they approach. One such trick fountain is triggered by stepping on certain cobblestones in a nearby path. We watched a tour guide lead her tour group across those cobblestone, she obviously knew which cobblestones to avoid, and then her tour group got soaked by fountains. 🙂
Afterwards we stopped at a little snack bar for lunch. I had bilini (crepes) with some kind of Russian berries. The rest of my family had bilini hamburgers – a meat patty wrapped up in a crepe. Hmm, I liked what I ordered just fine.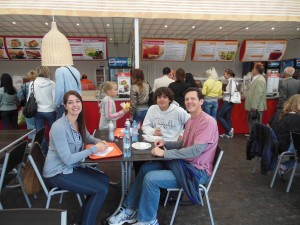 Luckily our daughter can speak Russian because otherwise how would we have ordered off this menu? Or found the correct Metro stops? Or known which tickets we needed to buy to museums? There isn't much English in Russia.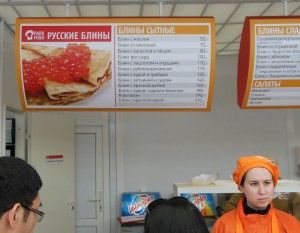 We took a boat ride through the canals of St. Petersburg,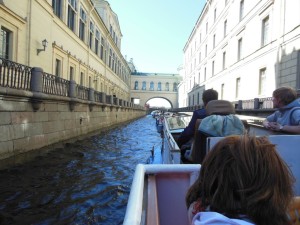 and out onto the river. They don't know how to build a small building. Below is the Hermitage from the water.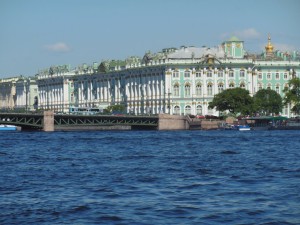 Do you see the bridge across the water in the photo above? At 1:00 a.m. all the bridges along the river rise so barges can go through them. Our children took a boat tour starting at 12:30 a.m. to watch 7 bridges opened up. The sun doesn't set until about 11:30 p.m. and then it rises again at 4:00 a.m., though it doesn't get completely dark because the sun is just barely below the horizon for those few hours. White Nights. Our children loved the boat tour, they said the edge of the river was lined with thousands of people cheering as each bridge went up. And there were hundreds of boats in the water to watch. My husband and I were back at the hotel sleeping through it all.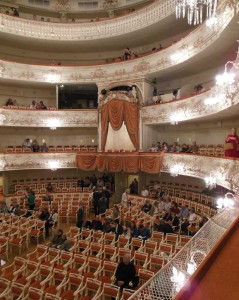 We decided no trip to Russia was complete without going to see a Russian ballet. I took this shot before the ballet began from our box. The ballet was absolutely beautiful, I loved every minute of it. We had two intermissions where they served (sold) champagne and pasteries out in the lobby area. Did I mention the Russians are amazing at making pasteries! It was a lovely evening. Afterwards we walked back to our hotel in the brightly lit "daylight" of 10:00 p.m.
A couple of days later I bought a little Christmas ornament of a ballerina as a souvenir at an outdoor stall, which reminded me of the principal dancer below.