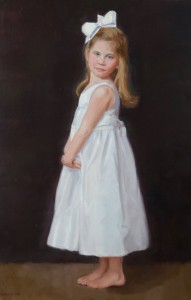 click on image for a closer view
This is a recent commission I painted of a darling 5 year old girl. It's 24″x36″ oil on linen canvas.
Below is a close up of this sweet girls face. I framed it in a 5″ traditional gold frame for the client.
Her dress was fun, I pulled out a couple of my John Singer Sargent books to study how he painted fabric. That was very helpful. And that big bow! I could paint bows all day long.