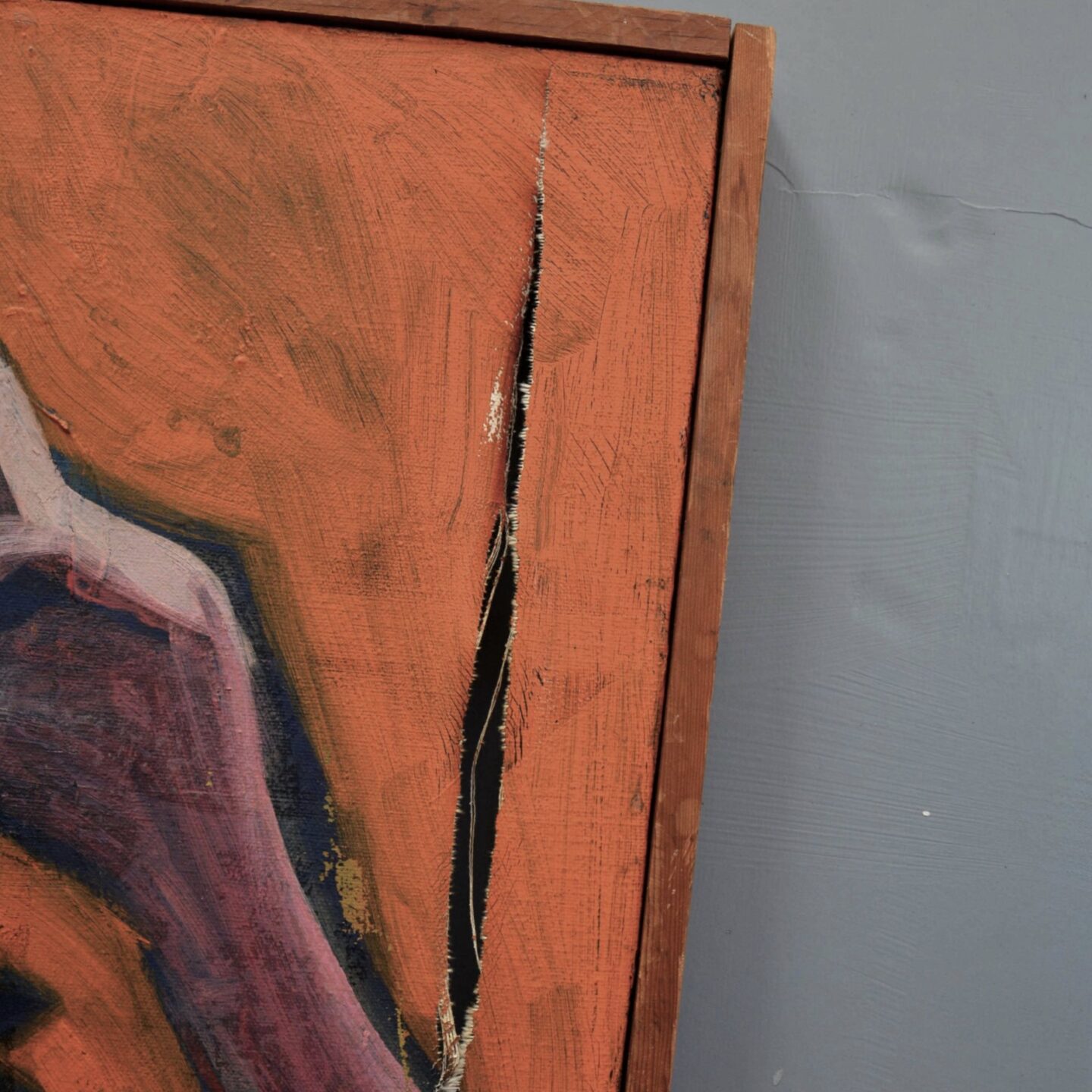 In this post I will show you how to repair a canvas painting. It's wonderful to bring a painting back to life and give it a second chance by repairing damage. This painting by Jeanne Johnston had a long tear in the canvas.
Supplies to repair a canvas painting
Over the years I've repaired a number of canvas paintings and I will walk you through my steps. And don't worry, it's easy.
You will need:
a flat work surface depending on the size of the painting
a piece of canvas for the patch
YES! paste or similar glue
gesso
a brayer or roller
scissors, a paintbrush to spread the glue, brushes for touch up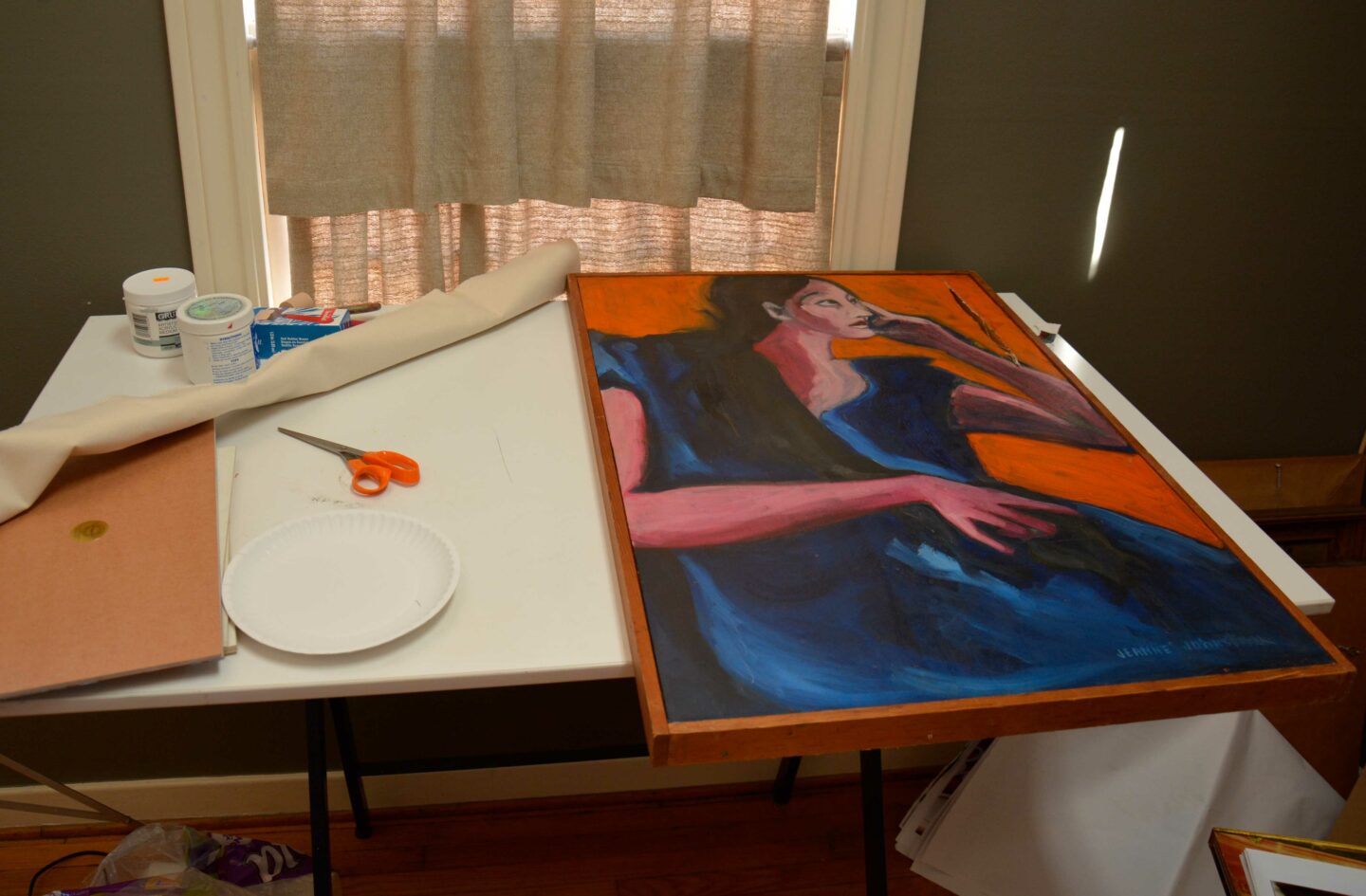 Canvas
First I found the appropriate canvas for a patch. I happened to have a roll of cotton canvas on hand. You can buy canvas by the yard at art supply stores. It's best to buy canvas that is made specifically for painting, not canvas from a fabric store. The painting I repaired was painted on cotton canvas so I used cotton canvas. If the painting to be repaired is painted on linen canvas, it's ok to use cotton canvas because you're going to cover the weave with gesso.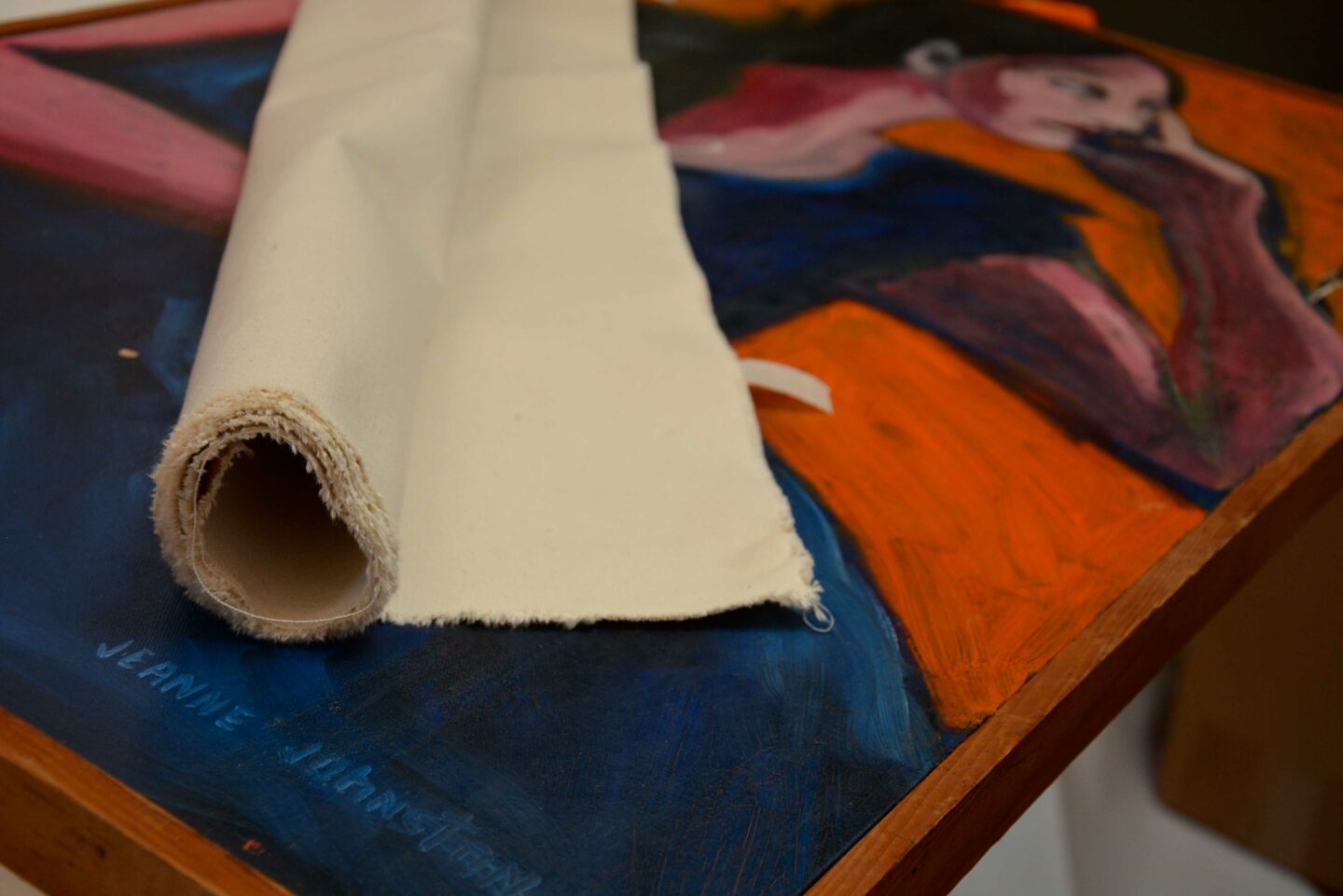 Cut the canvas patch
Next, cut your canvas to the desired size. I cut my canvas an inch larger than the tear on all sides. You just want to make sure the patch is large enough to cover the tear, but you don't want too much extra when you glue it on the backside.
If your painting only has a puncture or hole, you can use this same method, just use a much smaller round patch. A round patch won't have any corners that can get snagged and tear off.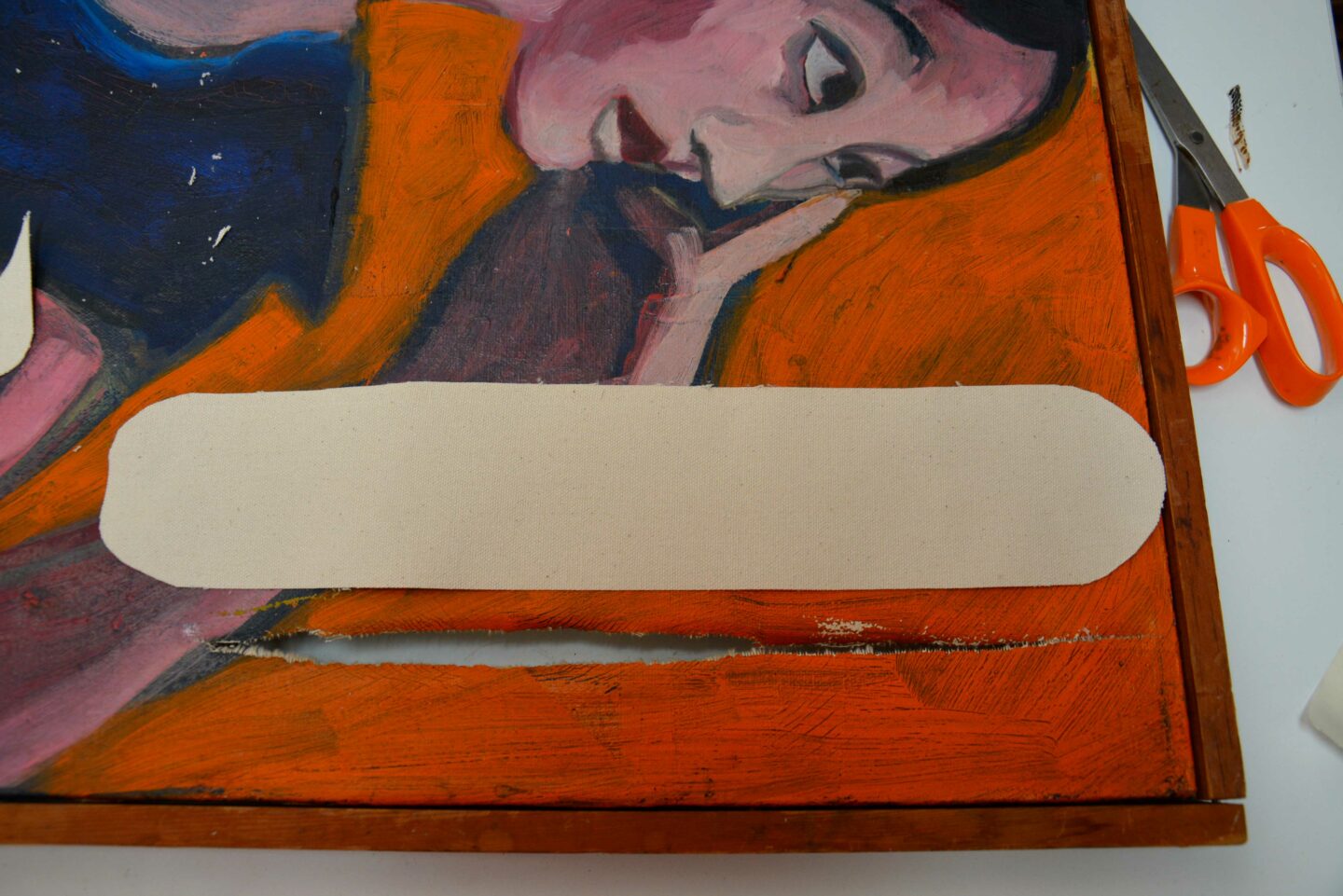 Attach the patch to the damaged painting
Below you can see the YES! paste that I use which I bought it at a local art supply store. I brushed some on one side of my patch and stuck the patch to the back of my canvas. Then I lifted up the edges and added a little more glue to make sure the patch was glued all the way to the edges. If the patch is flapping around it might get caught on something and tear off.
To make sure the canvas was adhered well, with no bumps or bubbles, I used a Speedball rubber brayer. You can see it in the 3rd image below. (local art store).
Finally, to make sure that patch wasn't going anywhere, I weighted it down with a book and waited a couple of days for it to dry.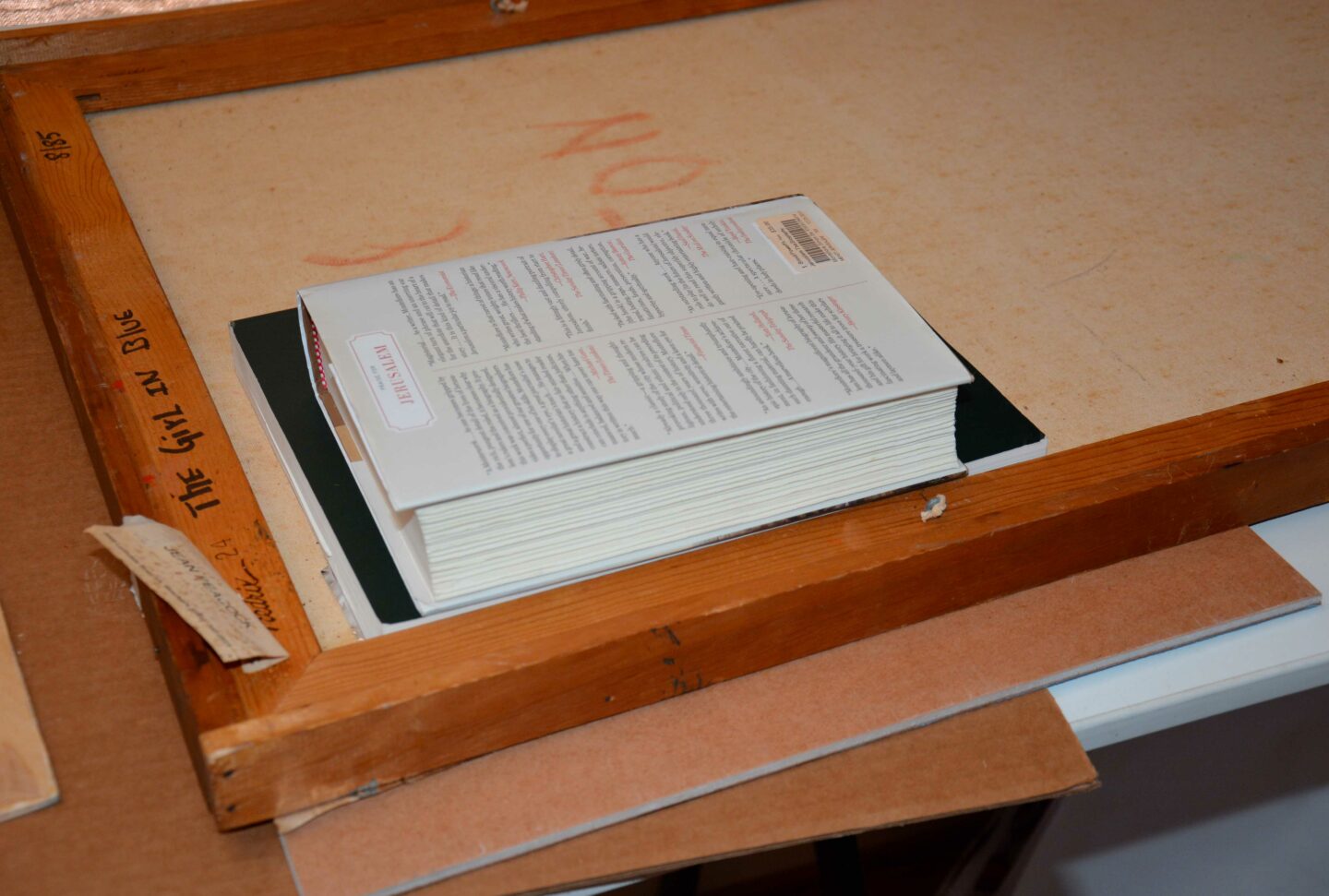 Filling in the tear
Once the glue is dry, turn the painting over and you'll see an obvious difference in the level of the patch and the level of the original canvas. Sort of a shallow ditch. This is easy to fix, just fill the ditch in with acrylic gesso.
I used a brush and filled in the ditch, going a little beyond the ditch to feather out the gesso so there would be no hard edges.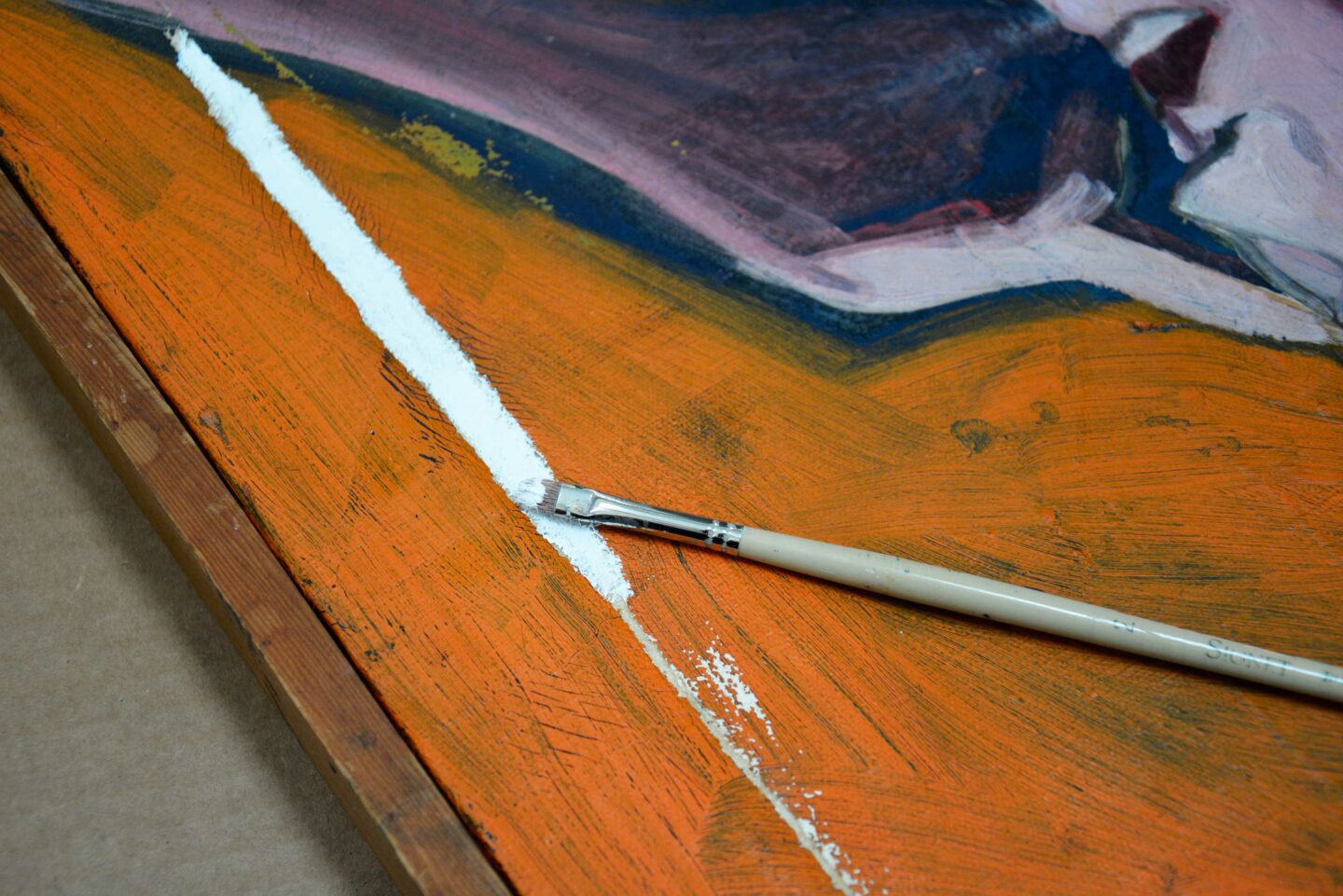 Paint touch up
Once the gesso is dry you're ready to touch up the painting. If it's an oil painting I would suggest you use oil paint, for an acrylic painting use acrylic paint. Each has a different sheen and matching the type of paint will be an overall match.
This was the fun part for me. Just keep mixing until you get the closest color match you can. This painting seemed to have a blue underpainting so I did that and then waited a few days and then put the orange over it. Pay attention to details like this, and try to match the brushstrokes.
I hope this post will help you with knowledge about how to repair a canvas painting that has been damaged, ripped, or torn. It's rewarding to rescue a damaged painting and give it another chance!