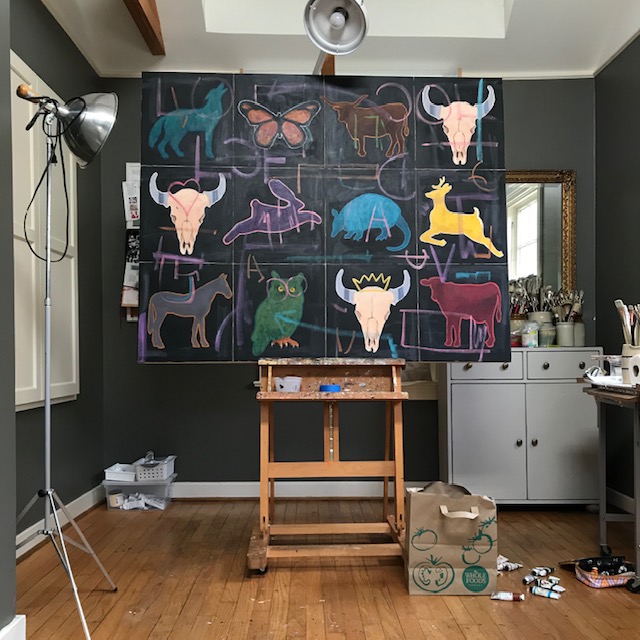 Finished the painting!
This is not your typical Texas wildlife painting! I've given the animals a more contemporary bent and placed them in a grid. I've named this type of painting "animal squares". At least that's what I call it internally, before it's finished and gets a real name, like a "working title".
I'm happy to say this painting is finished (huh, I'm always happy when a large painting is finished so maybe that's an obvious statement). "Texas Wildlife" is the third in this series. It's mostly wildlife though I did add a couple of domesticated animals. I couldn't resist adding a longhorn.
The grid
The concept of the animal squares started when I designed this large painting for our entry in Jackson Hole, WY. I decided to include all the animals in the area and somewhere along the line the grid was developed and each animal claimed his space. Maybe the grid evolved because I like things orderly (I like things orderly, I'm not saying they are), but then again my favorite part of the painting is adding the colorful abstract strokes at the end. So who knows.
Framing the painting
Once the painting was dry and varnished I took it to my local framer. We chose a simple narrow black frame and a week later the 48″ x 60″ finished work was delivered to the gallery.
The painting is available at the Jack Meier Gallery, 2310 Bissonnet St, Houston, TX 77005 .
A few of my favorite paintings were printed on totebags. They are available on my SHOP page and in Jackson Hole stores.