Besides the fact that cherry blossoms are beautiful, they have a rich history in art which adds their interest! Above is my "Cherry Blossoms" painted in oil on a 36″x36″ cradled birch panel. I often paint on wood panels when I want a contemporary look. I stain the wood edges instead of framing the work.
One of my favorite things about this painting is the texture on the branches, it's like a wonderful bark, and that was a lot of fun to paint. All those pink blossoms would have been overwhelming without the browns and oranges in the branches to balance it out.
the history of Cherry Blossoms in Art
The evolution of cherry blossoms in art has a rich history . The Japanese have a tradition of cherry blossom viewing, called hanami, which has been practiced since the 8th Century. The spring time viewing is a period of reflection and renewal. And cherry blossom trees, or sakura, were a popular woodblock print motif made by early Japanese artists.
Many of the Japanese works depict joyful scenes of people enjoying themselves during the short hanami season. Below is an example of an ink woodblock drawing showing three women standing on the bank of a river, viewing cherry blossoms in 1818.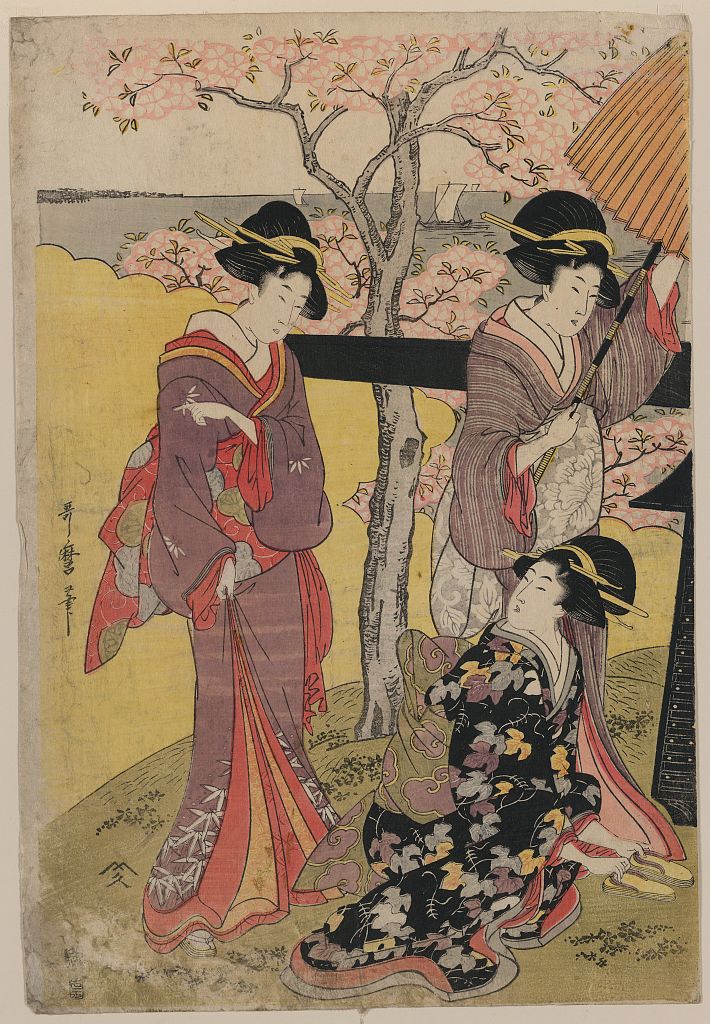 In 1853 trade was reopened from Japan and the cherry blossom first made it's appearance in the West. The increased trade from Japan brought woodblock prints out of Japan; and many European artists were influenced by the cherry blossom images. Most notably Claude Monet, Edgar Degas, and Vincent van Gogh adopted the theme in their own work. The delicate petals of cherry blossoms have influenced many artists since.
I chose to paint cherry blossoms because they're beautiful, but knowing their history in art has increased my love for them. For more history of the cherry blossom in art check out this article.
MY Cherry Blossom tote bags
After I completed this painting I had tote bags printed with this image. It was fun to have a product and these tote bags, along with a couple of other designs, were in stores while they lasted.