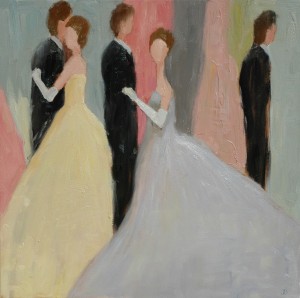 Exhausting! That and loss of trees comes to mind after finishing this piece. Exhausting because this painting took me about 4 times as long as the previous painting. I thought this one would be "easy" since it's basically a cropped portion of the previous 16″x20″ painting. I've left out the couple on the left and made it a square composition, 24″x24″. This painting is $650 unframed or $700 framed. Whenever I try to copy something I've done previously, it just becomes more difficult. I always think it'll be easy. Now I know. I think it's because I'm focusing on the wet painting in front of me and working with the colors and values, BUT I'm also looking at an old painting trying to match colors and values. Part of me is trying to match but the other part is trying to improve, then once one value or color is shifted, every color needs to be adjusted. It's really easier to just put away the old painting and start anew. I've only copied my own paintings about 3 times, each time for a commission. Not something I like to do and now I'm reminded why.
My comment about "loss of trees" comes from the fact that I used at least an entire roll of paper towels to wipe paint off this canvas. I did a lot of repainting, especially on the colors. For example the bright reddish pink color between the main couple in the previous painting just didn't work in this painting. I also use the paper towels to wipe off my brushes during painting. I usually have a stack of rags I've torn from old t-shirts but I've run out. Time to go over to the Salvation Army and buy a bag of old t-shirts, they're 50 cents each and it's a good way to recyle them.
Well, after all my complaining I am very happy with this painting. The last thing I did was wipe off the floor in front of the yellow dress and just continue her dress all the way down to the bottom of the canvas. I thought at first the painting needed the horizontal line of the floor meeting the dress since there are so many vertical elements in the painting, but after I looked at it a while the patch of floor just stuck out too much. I lightened the floor but that wasn't enough. So I ended up wiping off the floor completely, it was a case of looking at the painting as an arrangement of abstract shapes, not as people dancing.