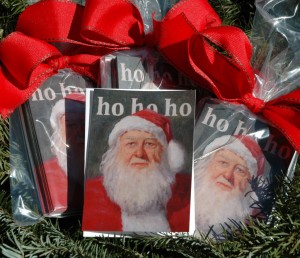 I've had notecards printed from the Santa portrait I did a couple of weeks ago. For lack of a new painting to post, I'm posting a photo of these little notecards packaged up. I printed a lot of notecards and my kids, husband and mother in law helped me packaged them over the Thanksgiving holiday. What a great help that was! Most of the packages will be gifts for friends, I'll donate 10 packages to the Episcopal Church Women – if any of my readers will be at the ECW holiday luncheon on Monday there will be 10 available with proceeds going to the women's ministry in Tanzania – and the rest of the packages I'll save until 2009 to sell at holiday shows.
I love to have notecards printed from my art. It's probably not the best use of my time because the process is very labor intensive. I get the cards printed at a local printer, buy envelopes at a local paper store, buy ribbon from Craft-Tex and the bags online from U-line. Envelopes come in boxes of 250, ribbon comes in 25 to 50 yard bolts and those clear bags come in packages of 1000! Storage can be a problem. But on the bright side I always have a hostess gift on hand.
It's been impossible to paint since Thanksgiving. I'm busy getting the house decorated, sending out Christmas cards, and doing other holiday related things. No shopping yet.
I will try to paint something soon and post it when I do.