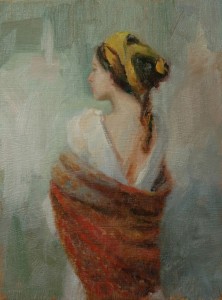 This is oil on canvas, 9″x12″. This painting was so much fun. I started it with the intention of painting a very loose painting with broad strokes but I guess the subject ended up dictating the way I handled the paint instead of me. As I painted, the subject showed that it lent itself to more delicate detailed strokes, so that's what happened. I can get carried away with the details and it takes more of an effort to actually not paint the details, but in this case I like the details. This was done from a photograph I took of a model, that is an old Dutch shawl wrapped around her that I bought when we lived in Holland ten years ago.
Yesterday I drove over to Memorial Park to take pictures of the trail riders as they came into the park to camp before the big Rodeo Parade downtown this morning. I was hoping for pictures of cowboys sitting around campfires with their horses tethered to trees. Instead I got rows and rows of pick-ups and RV's with horses tied to bumpers. Hmph. So much for my romantic vision of the Old West!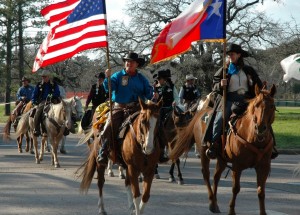 I took photos of the Salt Grass Trail Riders as they came into the park, they are the oldest group of trail riders. When I was in elementary school here in Houston we would read books and then as we finished each book we would advance along a Salt Grass Reading Trail map the teachers had handed out. It was all just a fun way to get us to read books no doubt concocted by clever teachers and I forget all the details, but I remember there was coloring involved. It figures, I don't remember much about elemtary school but I remember the map we got to color!