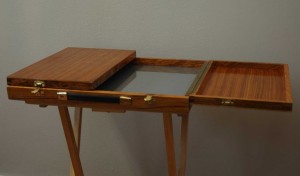 There are many kinds of glass palettes for artists whether you paint plein air or in the studio. I hope this post will help you decide if a glass palette is best for you.
I've used them all!
After years of painting on all kinds of palettes, I've decided to paint on a glass palette. When I started painting I used a wooden palette but I found if I didn't wipe off the paint immediately, it dried quickly and was difficult to scrape off. I did that for years though. After that I went to the super-easy paper palette. It doesn't get much more simple than that, just tear off and throw away the coated sheet after each painting session.
Why use a glass palette for artists?
Here are the reasons I've found:
Glass so easy clean. I can wipe off my unused paint when I'm finished painting, or use a razor paint scraper with a handle to scrape off paint even after it's dried.
I can put a sheet of paper under the glass in my choice of color.
How to fit a palette for glass
I have three different palettes and I took them all to the glass store and had 1/8″ clear glass cut to fit each palette. I chose 1/8″ thickness because that would add the least amount of weight, which is especially important for plein air since I have to carry everything. I chose a neutral medium grey colored paper from the art supply store and cut a sheet of paper to fit in each palette. The glass was put over that and secured with a clear bead of SILICONE around the edges by the glass store.
The color of paper you choose to put under the glass is an individual decision, I've taken a number of workshops from artists and naturally I look to what they paint on. Quang Ho paints on a glass palette with a white sheet of paper underneath. Dan Gerhartz paints on a glass palette with a medium/dark grey paper underneath. Others use wooden palettes. I haven't seen one use a paper palette.
French mistress and french companion
What you see above is a "french mistress" and it measures 17 1/2″ x 21″ with those flaps closed. It weighs 10 pounds plus now I've added the extra weight of the glass. It'll never leave the studio if I can help it. It's sitting on a plain old wooden tray table. There is also a smaller version of this box called a "french companion" but since I got it for my studio, I went ahead and bought the larger size. I'm excited to paint on a palette that BIG.
Below is my pochade box that I use when I paint plein air or when I travel to locations by car. It's a bit cumbersome to take on an airplane, especially since it has a tripod that goes with it. But I don't mind packing it in my car when I have a destination within driving distance. Mine is an Easy L pochade box and I love it! I have a lightweight Manfrotto tripod to go with it. I would definitely recommend going with a lightweight tripod! They cost a little more but it's well worth it.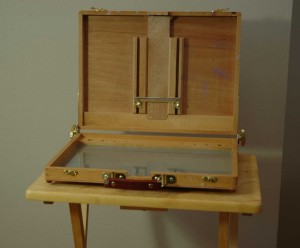 Below is my pochade box in action.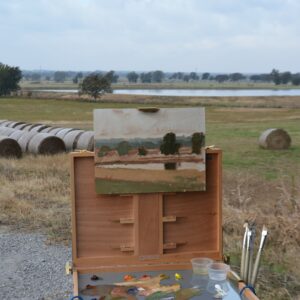 Palette keeper
Last but not least is my "palette keeper" which is basically a tupperware like rectangular box that seals shut. It keeps oil paint wet for 2 or 3 days. It cost less than $20 and most art supply stores have them. I also had glass put in the bottom of that. This is very portable and handy for traveling to an art class. No more wet paint smeared on seats on the way home – though maybe that's only my experience!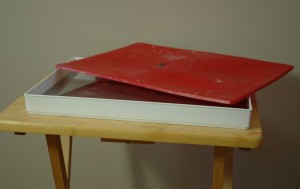 Having the glass cut and put into the palettes was a total of $23. The only thing I need now is a scraper to scrape the glass clean, most artists that use a glass palette use a scraper. They can be found at paint stores or hardware stores.
I hope this post has answered some of your questions about a glass palette for artists. Send me a comment if you have any questions and I'll do my best to help out.