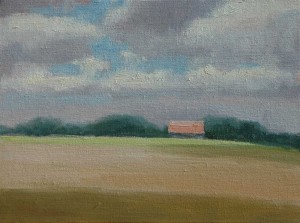 Summer Sky
12″x16″ oil on canvas
$375
I have been busy painting even though I haven't posted much the last few days. This is a 12″x16″ oil on canvas of a typical Texas sky. I loved painting those clouds so much that I've started a 30″x40″ canvas of the same painting. At first that large canvas was a little intimidating but I'm dealing with it. I can see how I can actually get used to a canvas that large.
I have been busy working on a portrait commission the last couple of weeks so I haven't painted any of my "church people" for my project. But the commission is almost finished so I'll be able to get back to my 8″x8″ portraits. The commission is of a beautiful woman on a 24″x20″ canvas. That's not a HUGE canvas but it seems to take forever to paint just one arm. I'm used to painting figures on 11″x14″s and an arm just takes a few strokes. Painting on a 24″x20″ feels like I'm painting the side of a building!
In order to paint and photograph people properly in my studio I decided I need to get rid of some of the sunlight. When we remodeled the studio we put in windows facing east and in the morning too much light comes in that window. I cut some foamcore to fit the windows and using a tall ladder I carefully stuck the foamcore in the windows. I think that's solved my problem.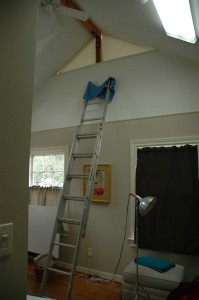 While we're talking about lighting, I just noticed in this photograph you can see the two different curtains I have to control the light. I have the dark grey curtains that cover the full length of the window, I have four and I use those when I'm painting a model if I want deep shadows. They effectively block out the sunlight. The little half curtains are what I have in my windows on a daily basis, it gives me some privacy yet still lets in plenty of light for painting. Both kinds of curtains are on a tension rod and are so easy to move around.