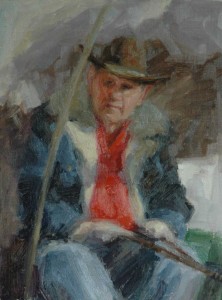 Every February and March hundreds of people come to Houston on horseback to see the Houston Rodeo. Trailriders come in groups from all over Texas, sometimes spending 2 weeks on horseback just to ride into Houston the day the rodeo opens.
This gentleman was driving a couple of horses and sitting atop his chuckwagon as he came into Houston. It's 9″x12″ oil on canvas.
I'm working on a portrait commission so that's why you're not seeing much else these days!