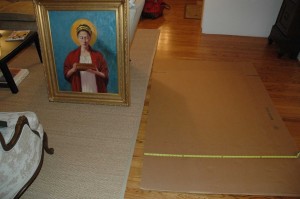 Well, I didn't paint today mainly because I was too preoccupied with making a box to ship my painting to the Greenhouse Gallery. I bought a giant box from a box store, but it was too big. So I cut it down and made a top and a bottom that fit into each other.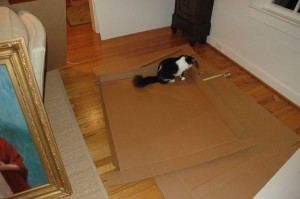 Lots of meauring and cutting and taping. You can see I had a helper. That's as far as I got last night.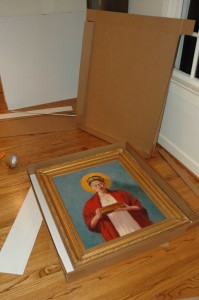 This morning I decided I needed bubble wrap to pad the painting so back to the box store I went. I only bought the largest size bubble wrap they had, roughly the size of a Texas hay bale, cause it was discontinued and on sale. It'll last me years. But it was a really good deal. 🙂
We will have other uses for that bubble wrap, my son came home from school, saw that giant roll and asked if he could wrap his sister's car with it. Hmm. I told him to let me know how much it would take.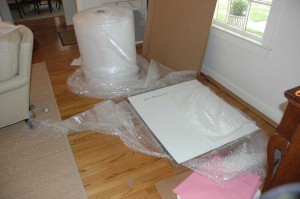 Finally, after all the taping and packing, I filled out the forms that went along with the painting, wrote a check for return shipping (in the sad event that it doesn't sell and has to come back to me) and the package is ready to go. As I type this I'm waiting for the carrier to come by and pick it up. I suppose the more I do this, the easier it'll get, but for my first time to make a box and pack it, it took a lot longer than I thought. But I'm not complaining, it was kinda fun, and I'm just so thrilled to have a painting in the Greenhouse Gallery that I don't care how much trouble it is.