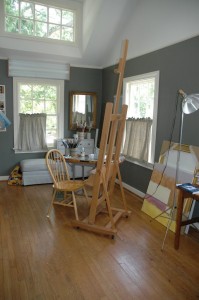 It took me a few days but my studio is organized and clean. I got rid of the shelving unit in the corner and put it in the attic. I bought some boxes that would fit on the shelves and filled them with things I hardly use in the studio and labeled the boxes.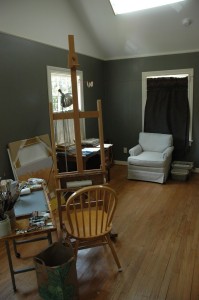 I moved old paintings and blank canvases to the storage unit. The entire house gets cluttered with past work, it's good to get them out of the way. I cleaned out files and threw away lots of old reference photos that I know I'll never use.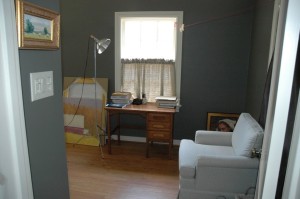 And I love having this little desk next to the window for planning paintings. I still have my comfy chair for reading, the biggest challenge is keeping it from being a dumping ground for all kinds of stuff. And I even hung a little painting above the light switches as you walk into the studio.
It's so nice when the studio is clean and organized! Now if only I could keep it that way . . . .