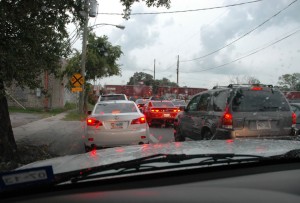 Rain, a train and traffic!
Here is my view sitting in traffic in the rain on the way to meet Myrrh to paint ourdoors. Notice I'm waiting on a train too! What a way to start our painting outing.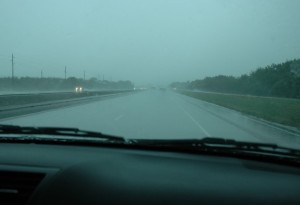 Still raining on the Interstate
Still raining as we are driving west of Houston but we are determined. It never rains long, right?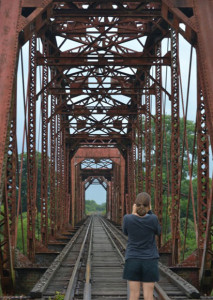 Bridge over the Colorado River
A break in the rain so we got off the Interstate to explore a bridge going over the Colorado River. It was beautiful but there really wasn't a safe place to trek down to the water and paint. Plus, it was a little too remote for our comfort. So we got back on the Interstate and kept going. That bridge was gorgeous though, if a bridge can be gorgeous.
We found a beautiful scene off the Interstate but . . . . it was still raining. So we decided to make it work. I sat in the back of the car with the hatchback open and painted, Myrrh sat in the back seat with an umbrella rigged up for protection from the rain. We both painted 6″x8″s because this wasn't the most comfortable way to paint. And I think these little paintings were both our favorites for the day. The painting you see below is actually from a photo taken 30 minutes after the rain stopped.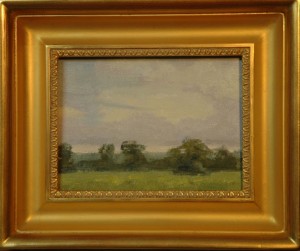 "After the Rain" 6″x8″ SOLD
Myrrh in the backseat.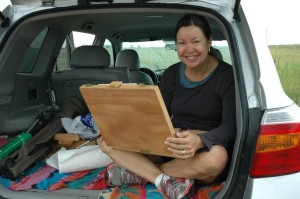 Me in the way-back.
We eventually passed under the storm that was coming into Houston and got out from under the rain. Found some wonderful backroads near Bellville and set up to paint on the side of the road. A man stopped to talk to us, he thought we were surveyors.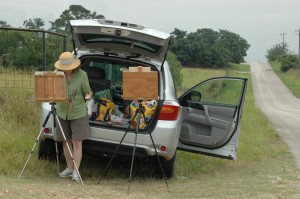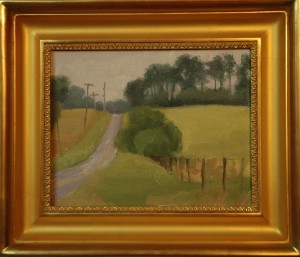 "Rolling Hills" 8″x10″ $375 framed
After that last painting we were in search of lunch. We usually paint two paintings before lunch and one afterwards. We came across this crazy . . . dock? With a sign painted on the side that said "Hillbillies Fishing Hole". Never seen that before.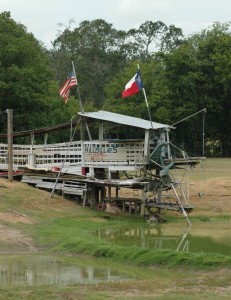 "Hillbillies Fishing Hole"
After lunch we drove to a place where we've wanted to paint for a while. There is a GIANT storage barn type structure next to the train tracks in a small town and I'm fascinated with this large building. So we set up to paint it.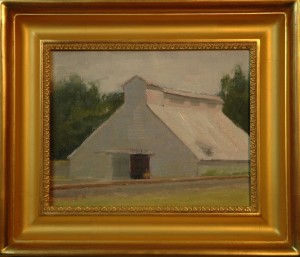 "Railway Barn" 8″x10″ SOLD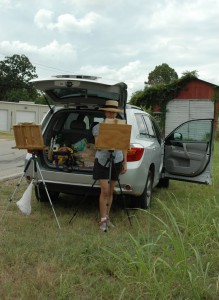 Painting that big "Railway Barn".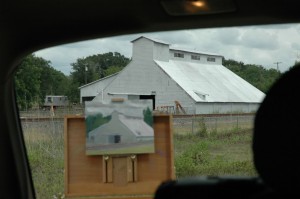 View out the back of the car.
After a full day of painting we drove back to the big city of Houston. We were treated with an absolutely glorious sky, a reward for getting out of the house and painting on such a questionable day. I am finding some of the most beautiful scenes present themselves on rainy and stormy days.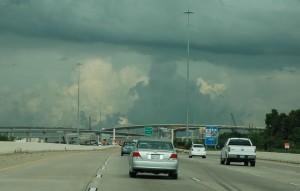 If you enjoyed reading about this latest plein air adventure and would like to receive these posts in your e-mail, you can sign up at the upper right side of this blog. Just type in your e-mail address.