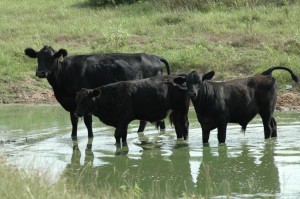 A few of the cows we saw on our painting trip.
What an exhausting day! I left the house at 7:00 a.m. and met my friend Myrrh in our designated parking lot and from there we drove west of Houston an hour to paint. Not a cloud in the sky! Uh-oh. The temps have been nearing 100 degrees, but by mid morning a few clouds were forming though not enough.
We drove around looking for a good place to paint and finally decided on a scene with a little pond and cows. So many cows! It was great, I took lots of photos to paint from. Myrrh painted the pond and I painted a stand of trees with a few cows under them.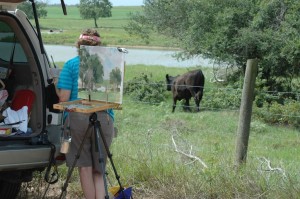 Cows everywhere!
We set up as usual but I tried something different today. I've been painting 6″x8″s or 8″x10″s or even the occasional 10″x12″ canvas when I really love a scene. Recently I've tried to translate my plein air paintings into larger paintings but it's just not the same, I am now spoiled by having the motif directly in front of me. So this time I brought along a 16″x20″ canvas and a 20″x24″ canvas! My plan was to start a painting plein air, getting all the main colors in correctly, and just working on it as far as I could, then back in the studio finish off the details. But, not too many details of course.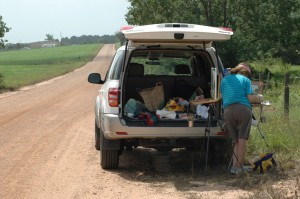 This back road in Texas was a beautiful place to paint.
So with this new "plan" in mind, I grabbed a 16″x20″ and started painting furiously. Trees! This is a hard subject for me. And cows, an even harder subject to paint plein air. I love painting cows, but not when they're moving around. So my "cows" ended up being spots on the canvas where I took a rag and wiped out a space where I'll paint them in later. Or maybe not. We'll see if I even complete this painting, I'm losing interest already even as I type this.
Next we drove to a wonderful red barn that we had spied a couple of weeks ago. But the two times we've seen this particular barn the face of it was in the shade but this time we were sure the face of the barn would be in the sun and we were right. I've been dreaming about painting this barn so I strapped my 20″x24″ canvas to my pochade box using a bungee cord, it actually worked great.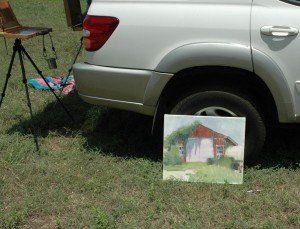 Trying out a larger canvas: 20″x24″!
And I painted furiously, it was great fun. The only person that stopped was the local law enforcement and we put him into service and asked him to take our photo. (When I downloaded my photos there was no photo of Myrrh and me though.) A very nice man who just wanted to come over and see what we were doing. I had a ball, I want to paint that barn over and over again. Bigger and bigger. No, not really, there is a limit to the size of canvas I can strap to my pochade box. I've been reading books about Monet full of old black and white photos of him painting large canvases outdoors. That was my inspiration todaoy! Think Monet!
Ahem, anyway, after we finished painting that wonderful barn with the beautiful shadows, we went for lunch. I won't even tell you what we had. Same thing we usually have. By now it was nearing 3:00 p.m., we were an hour from home, and it was getting hotter by the hour. But we were determined to paint a third painting, for some reason. I guess since we only head out once a week, we want to make it really worthwhile and paint as much as we can.
So we drove around looking for another scene that inspired us, we wandered up and down back roads, stopping every once in a while to take a good look at a clump of trees or a barn. We saw a fantastic barn but it was on someone's private property. We thought, if only we could get closer . . . . There was a sign on the fence, Something-or-other Hereford Ranch, so Myrrh googled it on her phone and she called them. We thought we would ask permission to paint their wonderful barn. Well, the conversation didn't go so well, an elderly woman answered the phone and told us she "didn't want any work done on her barn, not this year"! But, Myrrh continued to explain: we are artists and we just want to paint a painting of your gorgeous barn on canvas and . . . . "click". End of conversation.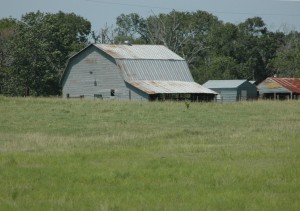 I'll paint this anyway. From a photo.
So we kept driving. Now heading back to Houston because our families would want dinner and we were bringing home BBQ. (Oops, just gave away what we had for lunch.)That was a big hint for what we had for lunch.) Eventually, and I do mean eventually, it was about 4:30 p.m .when we finally decided on a scene to paint. I was out of big canvases, I was worn out anyway, so I painted an 8″x10″ of some kind of industrial mill. I loved the subject but didn't love my painting.
It was after 6:00 p.m. when we headed back to Houston. Of course by that time everything looked beautiful in that early evening warm light with long shadows. So on the drive home Myrrh and I planned our next painting trip. A wonderful painting outing and I have lots of "raw material" to work from now.