My friend Myrrh Haslam and I headed west of Houston about an hour to paint. The forcast called for a chance of rain with a big green blob on the radar heading our direction. But we decided to go anyway. We left at 7:00 a.m. and after about 45 minutes of driving we could see rain on the horizon in a couple of directions. That's the good thing about this part of Texas, it's so flat you can see for miles. We were going through light rain and decided we should get off the Interstate and at least paint one study before the bottom dropped out and we got heavy rain. So we exited and found a place behind a "Love's" Truck Stop to paint.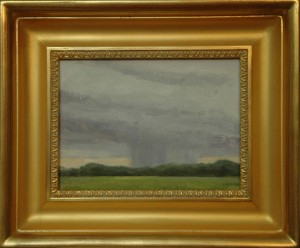 "Behind Love's Truck Stop" 6″x8″ oil on canvas SOLD
Once I had everything set up and started painting I thoroughly enjoyed myself. Truckers slowed down to see what we were doing, cars went whizzing by, but I was in my own happy world. This was a quick study, we decided we should continue driving west and try to "outrun" the approaching storm.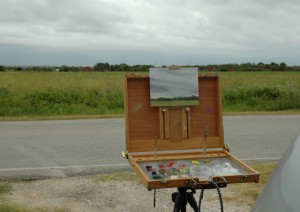 Trying to outrun the storm.
We drove another 20 minutes to our turnoff, we had a small town in mind where we'd been before. We got a little sidetracked and drove around looking at barns and cows, but then decided we needed to get back on the highway and head towards our planned destination – some barns we had seen on a previous outing. But we were talking and missed our turn. But, just like in life, you can't always plan for what's next and we happily went with it (which doesn't always happen in life, at least not in mine). So we took a back road, then a road off that back road, then another road off that one. We were officially out in the middle of nowhere and that's when we saw a wonderful white barn to paint. Plus, we knew the rain was coming so part of it was timing, the barn presented itself just at the right time.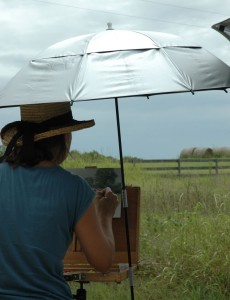 The storm caught up with us!
I used my umbrella for the first time for rain instead of sun! It works equally well so that's good to know. It wasn't raining hard but I was getting raindrops on my palette which I figured wasn't good, just another distraction. We spent a while painting at this location and by the time I was finished with my painting, the rain had stopped and the sun peeked out. Not sure which is better: light rain, overcast sky, or partly cloudy with the sun making an appearance for about 10% of the time I'm painting. We had it all.
By now it was already 1:00 p.m. so we decided it was time for lunch. We had to find our way from one back road to the next and finally back to the highway, then to the nearest town for lunch. BBQ again. I can never get enough BBQ, and we live in Texas so we have great BBQ. And I bought extra for the family for dinner.
After lunch and a nice little break we headed further west, keeping in mind the rain to the east. The lunch break was good: good to eat something, sit for a while and good for my brain to have a little rest from mixing colors. We found these red barns (the ones we were headed toward when we missed our turn a few hours ago) without any trouble (this time, ha!) and set up to paint.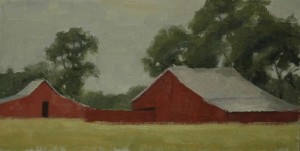 8″x16″ oil on canvas
Such a beautiful scene. The red barns, the grey sky and the greens in the trees and grass. I love painting architectural things: barns, industrial buildings, churches, so I couldn't have been happier.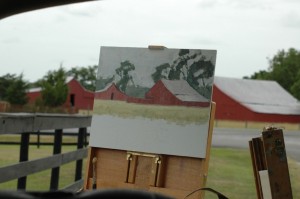 View out the back of my car during painting session.
By the end of the painting session the sun was out and it got hot, which was fine because we were finished anyway. It's challenging out there on days when the weather changes so much, but we just do our best. We packed up and drove the 1 1/2 hours back to Houston. What a fun day.