Myrrh and I have loved driving west of Houston to paint so much that we decided we would paint for two days and spend the night in a hotel in the area. We left Houston at 6:30 a.m. and were painting this red barn by 8:30 a.m. We had actually seen it on a previous trip so we headed straight there, we remembered it because it had a "Beware of Dog" sign up by the road. There was a big oak tree on the property and we would love to have been painting under that tree, but the threat of a dog kept us out in the sun. And anyway, we wouldn't just set up on private property. The sun was in and out of the clouds so when I saw a thin strip of sunlight and a big shadow, I put that note down very quickly.
I painted on linen canvas mounted on a birch panel so I was able to cut the panel down to about an 8″ x 4 1/2″ painting. I won't find a ready made frame for this, but the composition needed to be cut down.
It was so hot that day, temperatures reached 100. We decided some ice cream might help! And it did. That and lots of water.
Next we drove around some more looking for the next scene to paint. After a while we came across two barns facing each other in a big field of tall grasses. That stopped us in our tracks! It was early afternoon and hot but we set up in the road (on that hot pavement) anyway. An older gentleman came along on his ATV golf cart with his dog and we said hello. Turns out he owns the property, we told him we loved his barns and wanted to paint them. He said "How about you leave the barns as they are and just paint a picture of them?" Haha, clever man.
I really loved painting these two barns, it was such a peaceful scene. I couldn't have been happier. The composition was perfect just as it was, I didn't have to worry about changing or moving anything in this case.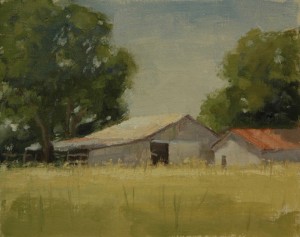 "Facing Barns" 8″x10″ o/c SOLD
After this last painting in the 100 degree heat we needed a break before we painted an evening scene, which was the whole point of making this a two day trip. We headed to a great little cafe in Round Top and had a very late lunch in the air conditioning. Then we drove around looking for a good place to paint as the sun was setting.
We drove down a side road off the highway and I saw this pretty pink road going through a bright green field and I just had to paint it. Myrrh and I usually paint the same thing, but she had her eye on a red barn down the road so she painted that.
I grabbed a 10″x12″ panel this time. When I really love a scene I grab the bigger panels. This was so much fun to paint, though challenging because as the sun was going down the shadows in the trees were changing by the minute. It was also nice to paint something besides a barn for a change.
The sun disappeared below the horizon, we cleaned our brushes and drove 30 minutes to Brenham to find dinner and our hotel. Guess what we had for dinner? BBQ! It's what we have every time we go out and paint and it's always delicious. After dinner we checked into our rooms and I got a very good night's sleep that night. We stayed at the Hampton Inn in Brehman and I would recommend it.
The next morning Myrrh and I met for breakfast, then drove 30 minutes back to the Round Top area. We painted a beautiful road with trees on one side but I didn't get that painting finished. I was still on the theme of painting "something other than barns" for the moment. Maybe I'll finish it using the photo I took one of these days.
After painting that pretty road we drove and drove and drove, looking for the next spot to paint. I think we were both a little tired at that point, and it was hot outside, but weren't ready to head back to Houston just yet. And then we came over a hill and saw a beautiful barn with shade in just the perfect spot and we knew . . . . . it love at first sight!
One car drove by on this road during the almost 2 hours we were painting. It was wonderfully quiet. One of my favorite things about this location was the wind. I could literally hear it coming, like a train in the distance coming closer, I could hear the wind rustling leaves and the sound got louder and louder and then the wind was right on us.
This was an 8″x10″ panel that I cut down to about an 8″x4″. Such a pretty scene. Interesting trees, haybales, nice shadow shapes. What more could I ask for.
SOLD
After this last painting it was time to pack up and head back home to Houston. We drove through Bellville on the way and stopped at our new favorite BBQ place, the Bellville Meat Market. We got BBQ (yes, BBQ again!) to go and I bought some sliced beef, sliced chicken and sausage by the pound for dinner for my family.
We got back to Houston late that afternoon after an enjoyable two days spent painting outdoors. Every time I go outside and paint, and really spend time outdoors, I appreciate God's natural beauty more and more.