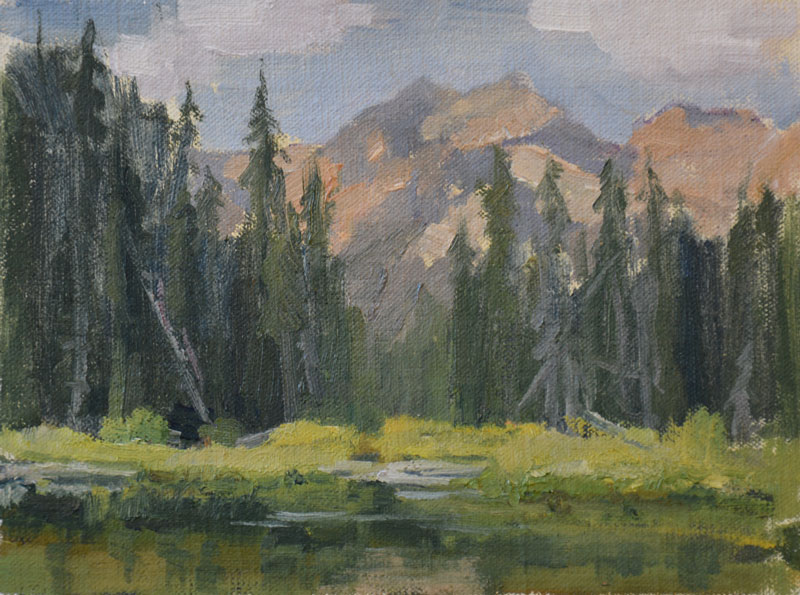 My husband and I recently took a trip to Grand Teton National Park. I packed my painting supplies and we headed off to Wyoming. I have a small pochade box that I've had for a long time and I bring it on trips where I'm not sure exactly how much or when I'm going to be able to paint. Even though the pochade box is small, it measure just over 6″x8″ and it's about 2″ deep, I still need paint, brushes, turp, paper towels and . . . . well those are the basics but there always seems to be more! So my point is that even though it's a small box, my painting supplies still will fill a backpack. Especially when you add water and a lunch. Oh, and bear spray! My sweet husband carried the heavy things up into a canyon and after about 2 hours of hiking I set up to paint this beautiful pond with the mountains in the background.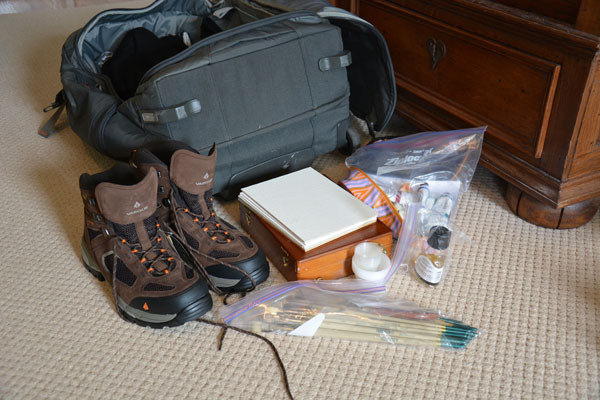 This photo was taken back in Houston while I was packing. I have wonderful birch panels with linen glued to them to paint on, and you can see some of my Windsor and Newton Painting Medium in the small bottle. Pluslots of brushes. That's the pochade box under my (ambitious) stack of canvas panels. I have to buy turpentine when I get to my destination because that's the one thing I can not bring on the airplane. I always print out and pack the Material Safety Data Sheet for my oil paints and pack that along with my paints, that tells the airport security that my paints are safe to take on board. Specifically the sheets spell out the flash points of the oil paints are well below what is allowed by the FAA. You can find the MSDS's on the Gamblin website. (Gamblin is a brand of oil paint.)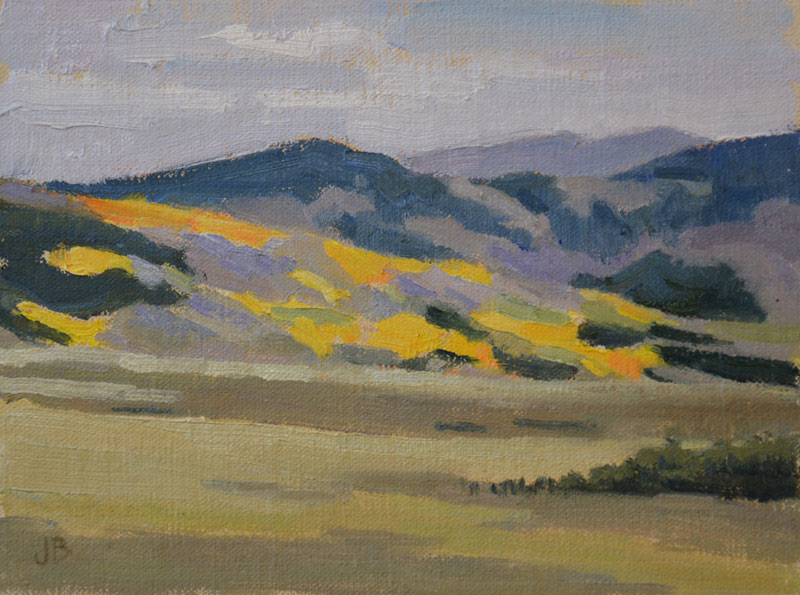 This is a scene looking across the valley at distant mountains. The aspens had turned yellow and they added beautiful color to all the mountains. I loved the contrast of the dark green evergreens to the bright yellows and oranges.
We had a great trip but I'm not sure I could do much hiking if I had to carry all my supplies, plus water and lunch, myself. Normally I set up to paint a lot closer to my car! Thankfully my husband has a strong back and is willing to carry my supplies for me!
If you would like to get my new paintings in your mailbox, you may SUBSCRIBE by entering your e-mail in that box to the upper right. I will not share your address with anyone, you just automatically get my new posts in your e-mail and you can cancel anytime. Thank you for stopping by!