Getting my bags in a store has been a journey but I'm very excited to announce that my Jackson Hole Wildlife tote bags and backpacks are now in the beautiful Belle Cose stores here in Jackson. They are carried in both the Belle Cose Town Square location and the Belle Cose Four Seasons location in Teton Village.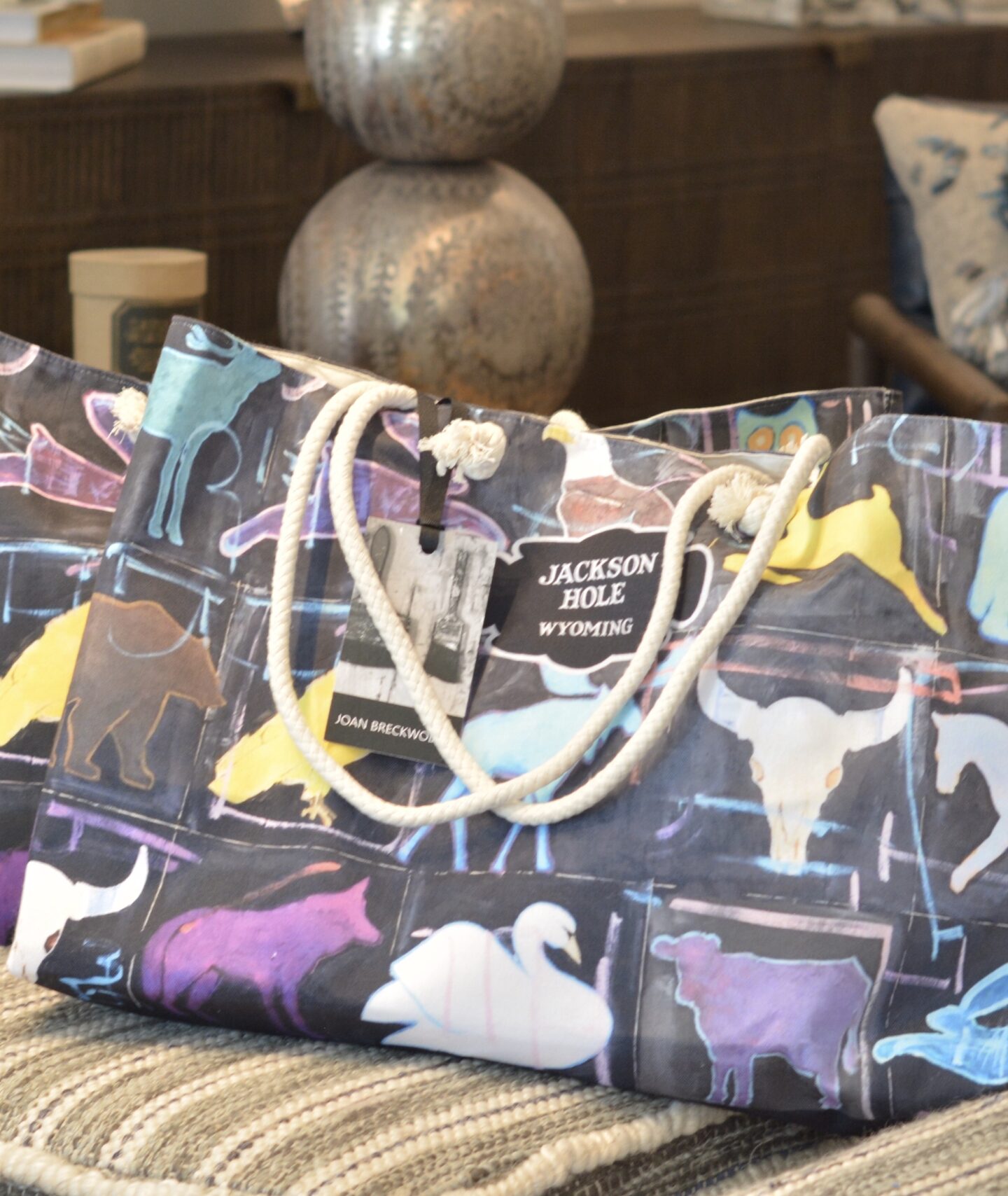 I've been working on getting these bags into a retail space for a few weeks now and Belle Cose (my favorite Jackson store) was my first choice! These are the first of my bags with my original art to be in a retail space so it's a milestone for me. (Watch out Celine! ?)
This wildlife design didn't start out as a bag design, it started out as a painting. We needed a painting for the entry in our home. I went back and forth every couple of weeks on what I wanted to paint but when it came time to paint, this wildlife design was at the top of the list. The painting depicts all the wildlife in the JH area.

The first thing I did was decide on the size, 9' x 6 1/2', and then figure out what surface I wanted to paint on. I decided to paint on a cradled birch panel. But they don't come that big. I had to order three and have them assembled into one, then mounted on the wall.

I painted it in place. In the middle of the winter. You can read more about the painting process.
After the painting was finished came photos of the painting and from there it was pretty easy to arrange the design on the bag. Then came designing what I call the "badge" with "Jackson Hole, Wyoming" text. This badge turns the bags into great gifts and souvenirs. I outsourced some of the production work on the badge to a designer in Bangladesh. Side note, it's been great to have someone handy to edit photos. But it did add a few days to my timeline.
So once the bag was made and I had samples, the next step was getting the bag in front of the owner or buyer of retail spaces. Belle Cose was my first choice but I did talk to a couple of other stores as back up. After a couple of meetings and some back and forth emails, the first order was placed by the lovely owner at Belle Cose!
But there was still work to do. I ordered the bags and once they came I put my own tags on them and delivered them. Delivering the bags was a lot of fun and while I was dropping them off I had a little mini photo shoot and took some photos of the tote bags in the Town Square store. My husband has offered to drive over to the Four Seasons location with me so I'll take a couple of photos of the backpacks in that location soon. And maybe spend some of the proceeds on a celebratory lunch while we're there.