Storm coming in
This is the second Yellowstone plein air painting I painted when I drove to Yellowstone one day last fall. I was looking for a good place to set up in Grand Teton National Park and saw a sign that said "Yellowstone 20 miles" so I drove on to Yellowstone basically just because I could.
After finishing my first Yellowstone painting I headed south back to the house because it was cold and stormy but I kept my eyes open for another painting spot. I pulled off the road when I found a good view: a storm coming in over the mountains. My set up was basically in the woods. I think only 2 cars passed by in the hour and a half it took to paint this.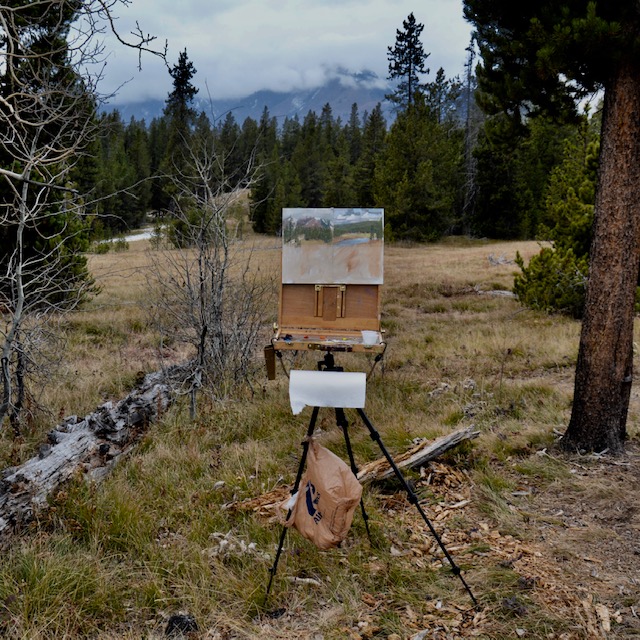 In the woods
It was pretty lonely out there (in the woods!) but I was more afraid of a bear wandering by than anything else. Even though I had bear spray right there on my easel, it's still a distraction to be looking around for a bear! A tourist did stop and talk to me, a man visiting from Russia and seeing America by car. Luckily by then I was almost finished painting because talking to onlookers can be distracting. This particular stop sounds a bit stressful as I describe it, but really it wasn't, that's not the memory I have anyway.
You can see the dark sky: heavy clouds were forming and I knew it was going to rain, or snow, or sleet, or all of the above, soon. So after this one I headed back to the house. I had painted two little paintings on one panel. Not being thrilled with what I painted, I put it away on a shelf in my studio.
Happy surprise
A month ago it was organizing my studio, getting ready for a summer of painting, when I came across the paintings. Happily they looked a lot better and reminded me of the day I painted them, which my paintings always do. (Just to be clear: they always remind me of the day I painted them, they don't always look better!) So I framed them and now I have two little memories of that day.