I think selling a wet painting right off the easel must be every plein air painters dream. That's a great feeling! I have some tips which make it easier to sell a wet painting.
3 tips for selling a wet painting
Be sure and always have some business cards ready with your contact information. If someone compliments your painting you can quickly give them your card and tell them the finished painting will be posted on your website.
Invite them to follow you on Instagram or Facebook and view not only the painting you're finishing, but future work too. This is a great way to build a relationship that could turn into a sale. (This is what happened with this painting.)
I've exchanged e-mails with people, though now IG and FB are easier, and you can actually ask if you could send them an image of the finished painting. You can then ship the painting to them if they choose to purchase it.
The main point here is that you have to take the initiative. The person admiring your painting might not even realize it's for sale. Or they might not even realize what a great souvenir an original plein air painting would make until later. (That's what happened with the painting I did today.) And that's when that contact you made with them will be invaluable to a sale.
Today's example of selling a wet painting
Well, that title makes it sound like it happens all the time, but it doesn't. But here's how it went . . .
The other day I hiked up into the mountains for some GTNP plein air painting and to try out my new pochade box. For a plein air painter, this day could not have turned out much better!
First of all it was a glorious day with big beautiful clouds floating across the sky. I had a 3 mile hike to Bradley Lake and then found a place to set up to paint. I sat right next to the lake on a giant rock and unpacked all my painting supplies.
After an hour and a half, and a few visitors who were curious about what I was doing, a group of 20-somethings came along. They politely asked if they could join me on the lakeside "beach" where I was painting, and before I knew it I was surrounded by the energy of a dozen fun loving people. Some even went swimming (!) in the very cold lake.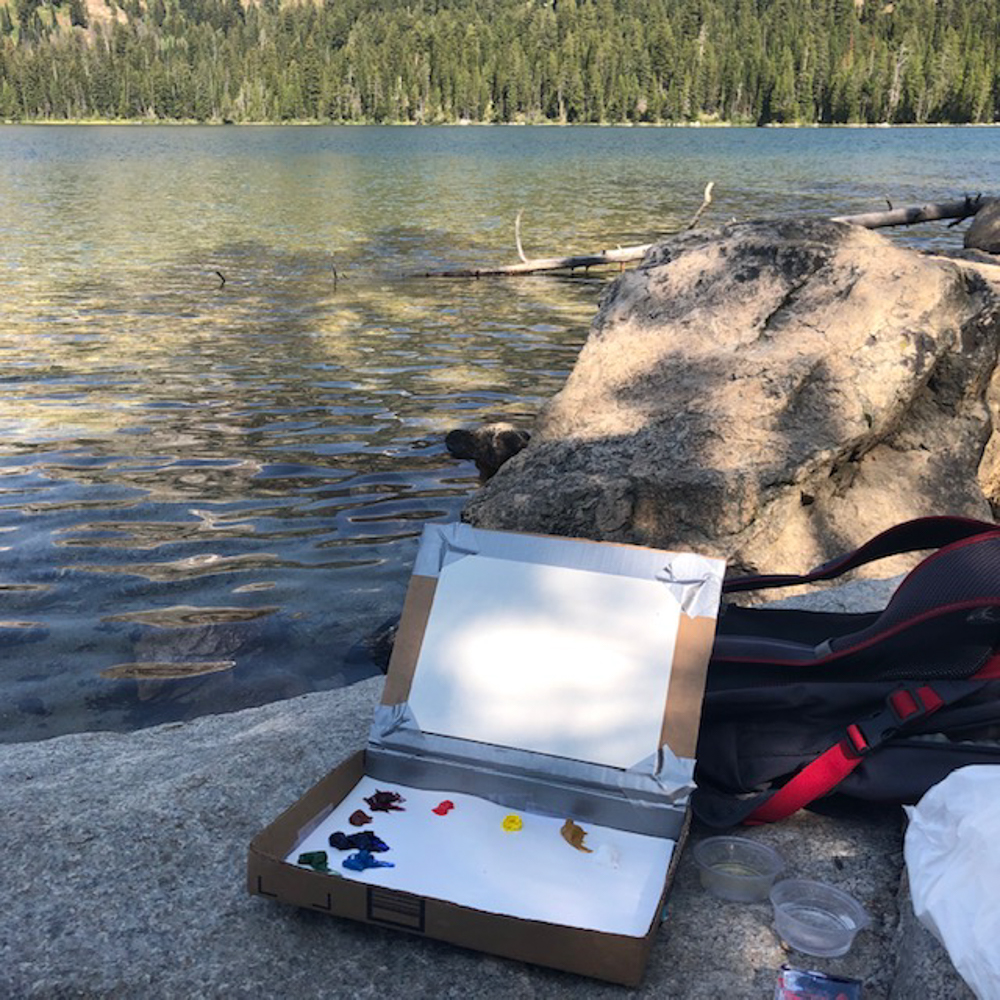 It turns out the group was from Minnesota and here for a wedding of two of their party. Meanwhile I continued working on my painting, which luckily was almost finished.
So it ended up being a very fun afternoon of hiking, a painting I was happy with, successfully using my new pochade box and meeting a nice group of people.
But it gets better
That evening I received this text from one of the women in the group: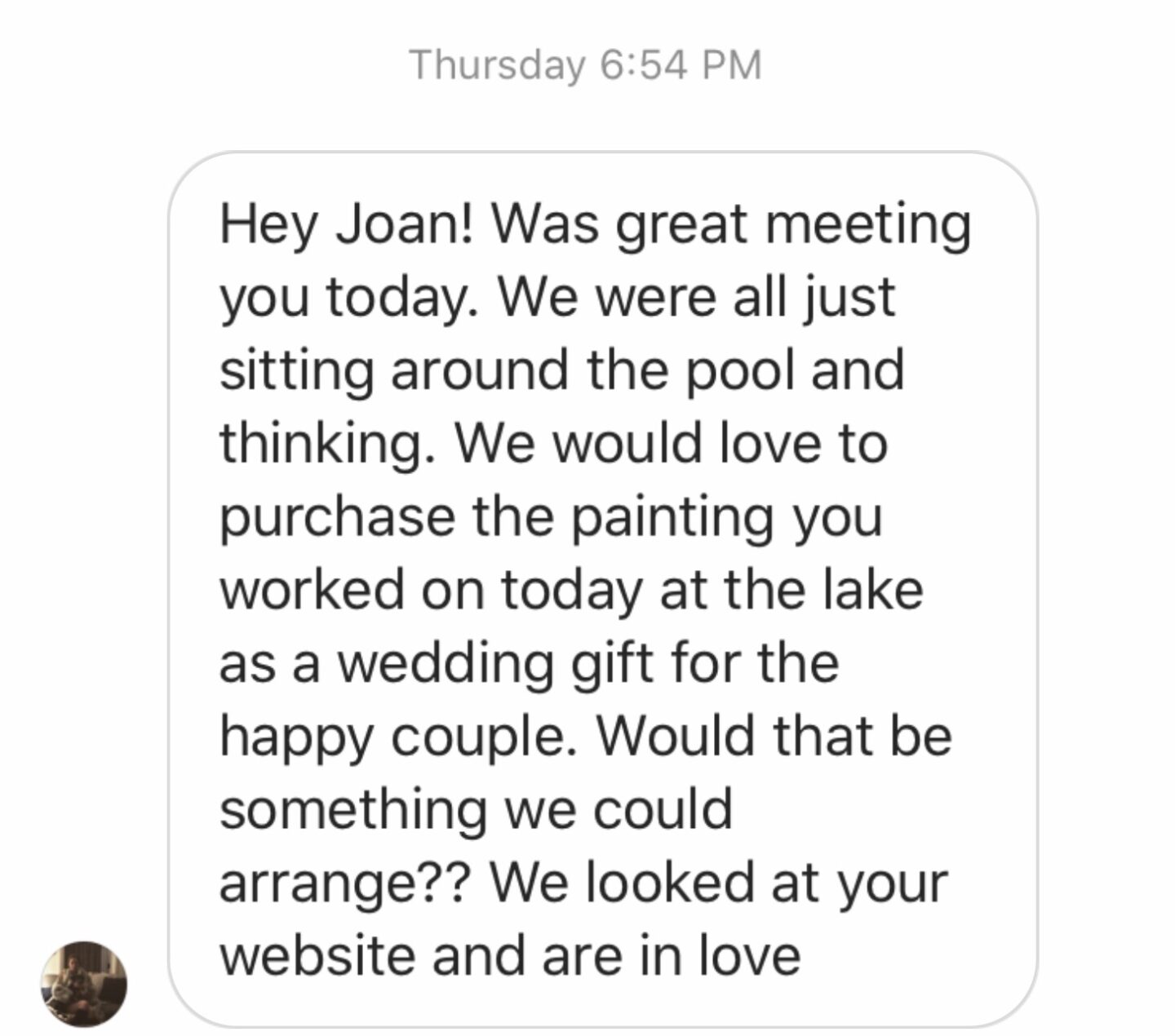 Now that is a plein air painter's dream! (isn't it?) To go out painting and then sell a wet painting right off the easel! And the best news is that the painting went to a very special home, which is always important to me. Thanks to the group of friends who made that happen for the happy couple, you guys made my day!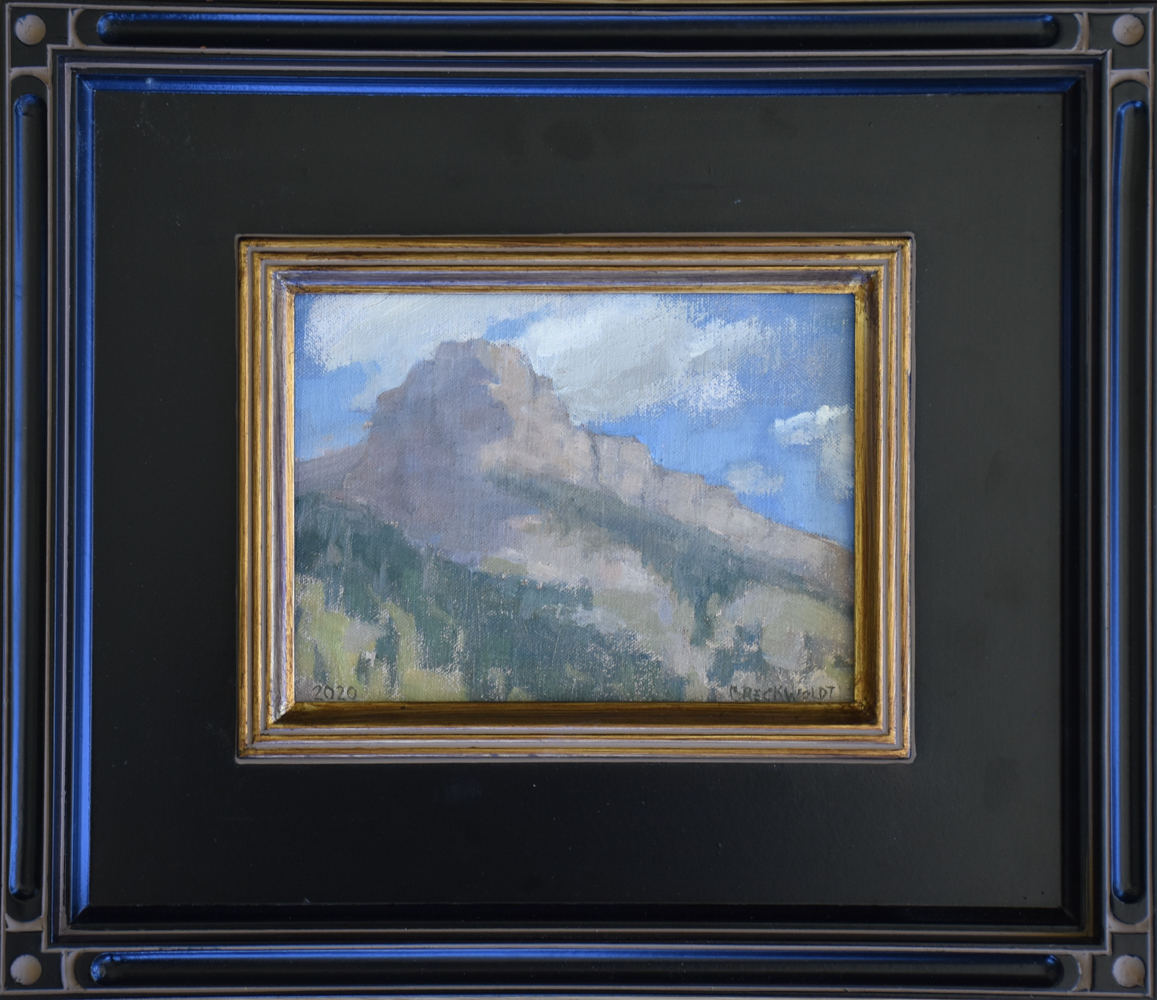 If you're interested, here's a post on how I made this super lightweight Pochade box that only weighs 3.5 ounces. Now I can hike and paint in the mountains! And maybe selling a wet painting will happen again.