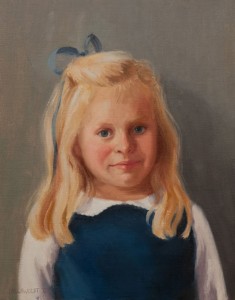 click for larger view
Here is a recently completed portrait. It's 14″x18″ oil on linen canvas mounted on a birch panel.
I normally like to take photos of my subjects myself, but this beautiful young girl lives out of town so my client took the photos. I paint from life a lot and that experience always comes in handy when I do have to paint from a photograph.
After this portrait was complete I took it and three other recent paintings to a professional photographer. I have always photographed all my work myself but last year when I painted 18 portraits for my Body of Christ Project I had a photographer photograph the portraits since I was publishing the work in a book. At the end of this year I plan to make a catalogue of this year's work as a marketing took so I'm having my paintings photographed throughout the year. Temple Webber Photography here in Houston does an amazing job!
Here is a close-up just for fun.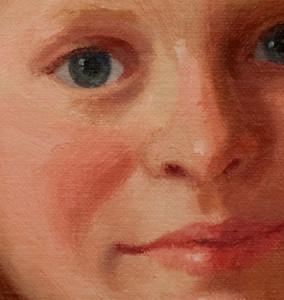 I loved painting this portrait, and more importantly her grandmother loved it, which makes being a portrait artist even more fun.