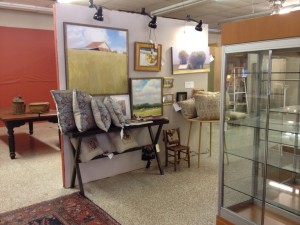 I have been renting a wall at a local antiques and interiors store but . . . . as you can see from the photo above, everyone has moved out. But me. Since I only have a wall, it took me all of 12 minutes to put my things in the back of my car and drive away so I waited til the last minute. (That table with the big X legs isn't mine).
The building is set to be torn down to make room for a mid level high rise. I'm sure it'll be lovely but I'll miss having my "space" at this little shop. It was always fun to stop by and see a bare spot on my wall where a painting had sold or find a small check for a package of my notecards that sold.
Overall I would say renting a space in a retail shop like this has been a good experience. For those that are interested in the particulars, space like this rented for $4 a square foot. Most of the booths people had were 100 square feet, I had a particularly good deal and only paid $100 per month for my wall space. Also, 10% of all sales go to the manager, which is very fair since she has to either be there to make sales every day or hire salespeople. I had no interest in spending time at the shop so I never had to. Eighty percent of sales from this shop were made to designers and they get 20% off the list price. You just have to figure all that in when you price your paintings, or other items.
I sold everything from 6″x8″ unframed paintings to 30″x40″ framed paintings. I had a basket where I would put my little 6″x8″ and 8″x10″ studies with price tags of $100 and $150. The 30″x40″ framed painting sold for $1800. Something for everyone at every price point!
While I did make money and every month I made enough to pay my $100 rent plus more, I will not continue selling this way. At least for a while. The majority of the dealers all moved to the new location, I opted not to. The new location is huge, more than twice as large, and I felt my paintings would get lost among the sea of "stuff" in the new place.
I have enough portrait commissions to keep me busy for a while, and I feel confident that more will come. I have a group show later this year and a solo show in April 2013. Selling paintings at the shop on a continual basis did provide me with constant encouragement, which is something I won't be getting, at least not from sales. But it'll be good to just paint whatever I want and not even think about sales for a while. I am always trying to simplify my life and make more time for painting so I think this will be a positive step.