Your best chance to see wolves in Yellowstone is to drive along Lamar Valley, a large valley at the northern end of Yellowstone. Wolves can be seen in other parts of Yellowstone too, but those sightings are rare. My husband and I drove up to Lamar Valley in northern Yellowstone to learn about wolf watching and hopefully see some wolves. And we were successful!
In my mind this little road trip is divided up into three categories: looking for wolves, the Lamar Valley itself, and the mining town of Cooke City where we stayed. Cooke City is to the east of Lamar Valley but you could also stay in Mammoth Springs which is to west of Lamar Valley.
Wolf Watchers
It took 4-5 hours to get up to the Lamar Valley from Jackson Hole. By late afternoon when we arrived we drove right past a sign that was similar to the area we had heard wolves had been spotted. So we drove down that dirt road and sure enough, up on a rise we saw a dozen people with scopes on tripods looking out in to the distance. Wolf Watchers!
So we were able to see a few wolves at a great distance with our binoculars and a couple of nice wolf watchers let us peer through their scopes. It was getting cold (colder) and dark so we drove on to our hotel (really a motel) in Cooke City, MT.
The next morning we got up very early and drove an hour in the dark to be at the same spot before sunrise to observe the wolves. Happily the wolves were in the same place! Wolves have regular places where they bed down for the night, paths they take to cross rivers and gullies and roads, and when they do kill an elk or bison they seem to be on that carcass for a few days.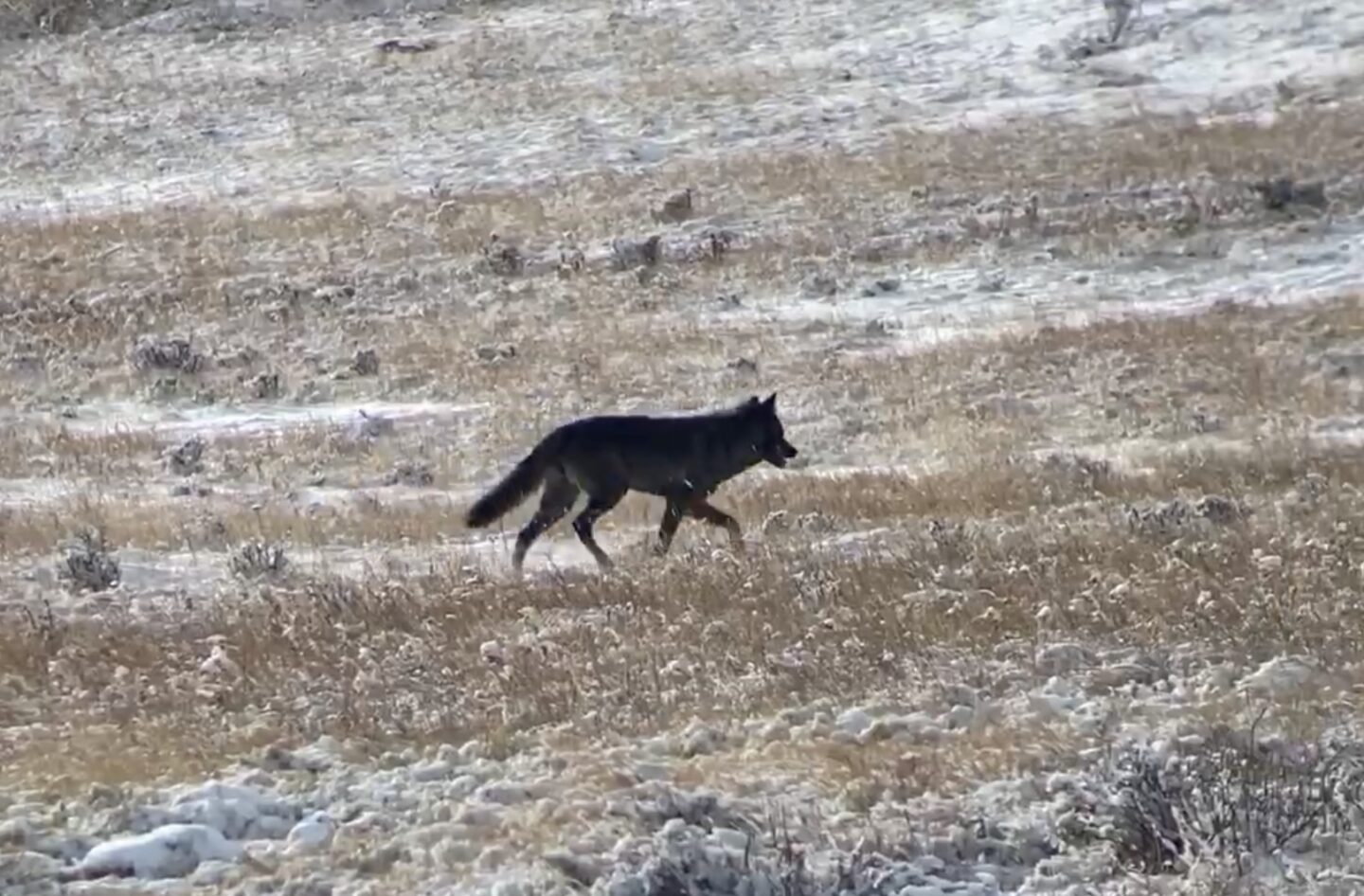 After an hour the wolf pack left for another area, and the wolf watchers followed. And we followed the wolf watchers. The wolf watchers do their best to track and follow the pack to observe them at a distance. The video at the top of this page was taken at one of the viewing locations of which there are many.
Of course you can't always see wolves because the Lamar Valley is vast and the wolves can go where they please, most of it out of view from the park road. But we were lucky. How often does anyone get to observe a wild animal in it's environment? We only get a glimpse of the life a wild animal leads: living each day as it comes with it's challenges and victories. It's a gift to get a chance to observe this primal way of life and it takes us back to the homesteaders or even before that, when humans were nomadic. Perhaps that's why thousands of people go to Lamar Valley each year with the hope of seeing a wolf.
Do you need gifts for wolf lovers? Check out my list!
Equipment for wolf watching
UPDATE – I've had some questions about which spotting scope we use so I've added this section with links.
As an Amazon Associate, I may earn a small commission at no cost to you if you purchase a product I linked to. This helps me with the cost of running this website. Thank you!
Below is the Vortex Optics HD spotting scope we bought (after much research) and it is amazing. We also have the Manfrotto tripod and Manfrotto ball head. These three pieces of equipment will get you set up nicely.
We also have a good pair of Hawke binoculars which is handy for viewing wildlife when you don't want to get out of the car and set up a scope. Here's what we have and are very happy with. We've had this one for a few years now.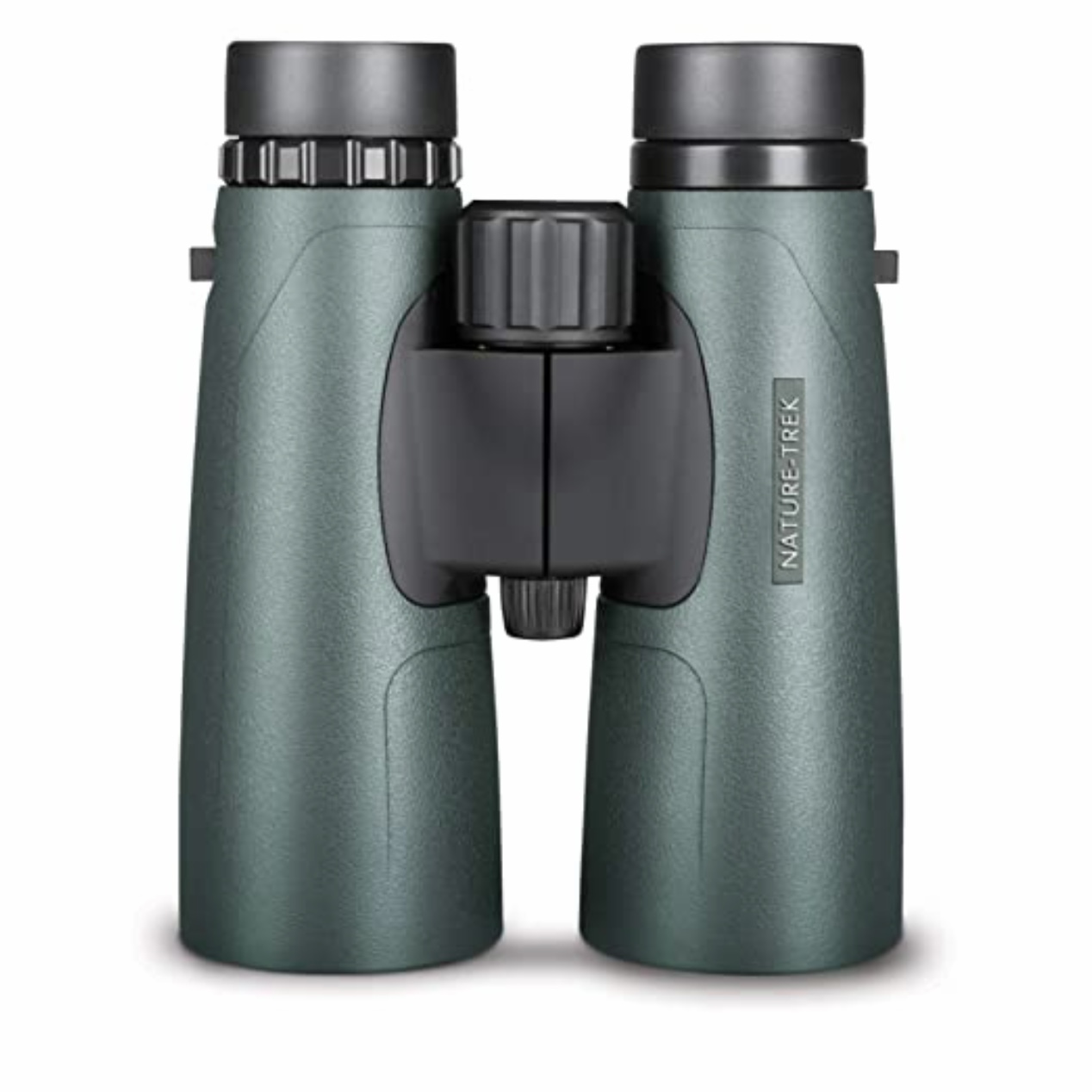 Reintroduction of wolves
Wolves, native inhabitants of Yellowstone and all of the US from it's northern border all the way down into Mexico, were eliminated (shot) from Yellowstone in the 1920s. By the mid 1990's it was decided wolves would be reintroduced back into Yellowstone to keep the ecosystem in balance. Wolves are an apex predator and without them their main source of food, the elk population, exploded. The Yellowstone range couldn't support that many elk and other wildlife that relied on the willows and grasses, and many elk starved. Wolves were reintroduced for balance and the effort was successful.
But what wasn't expected was the fact that once the wolves were reintroduced they would be visible to visitors to the park! Wolf watching in Yellowstone was born!
Books about wolves I've read
I looked at the stack of books I've read about wolves and it's a pretty big stack!
It may have all started with Nicholas Evan's "The Loop". OH MY GOSH, this book is sooooo good. It's a fiction novel about wolves and ranchers in a small Montana community. Whenever I see a used copy of this book I buy it and give it to guests who are interested in wolves. It is a beautifully written book and I highly recommend it. (It's also been made into a movie with Robert Redford, but there's nothing like reading a great book.)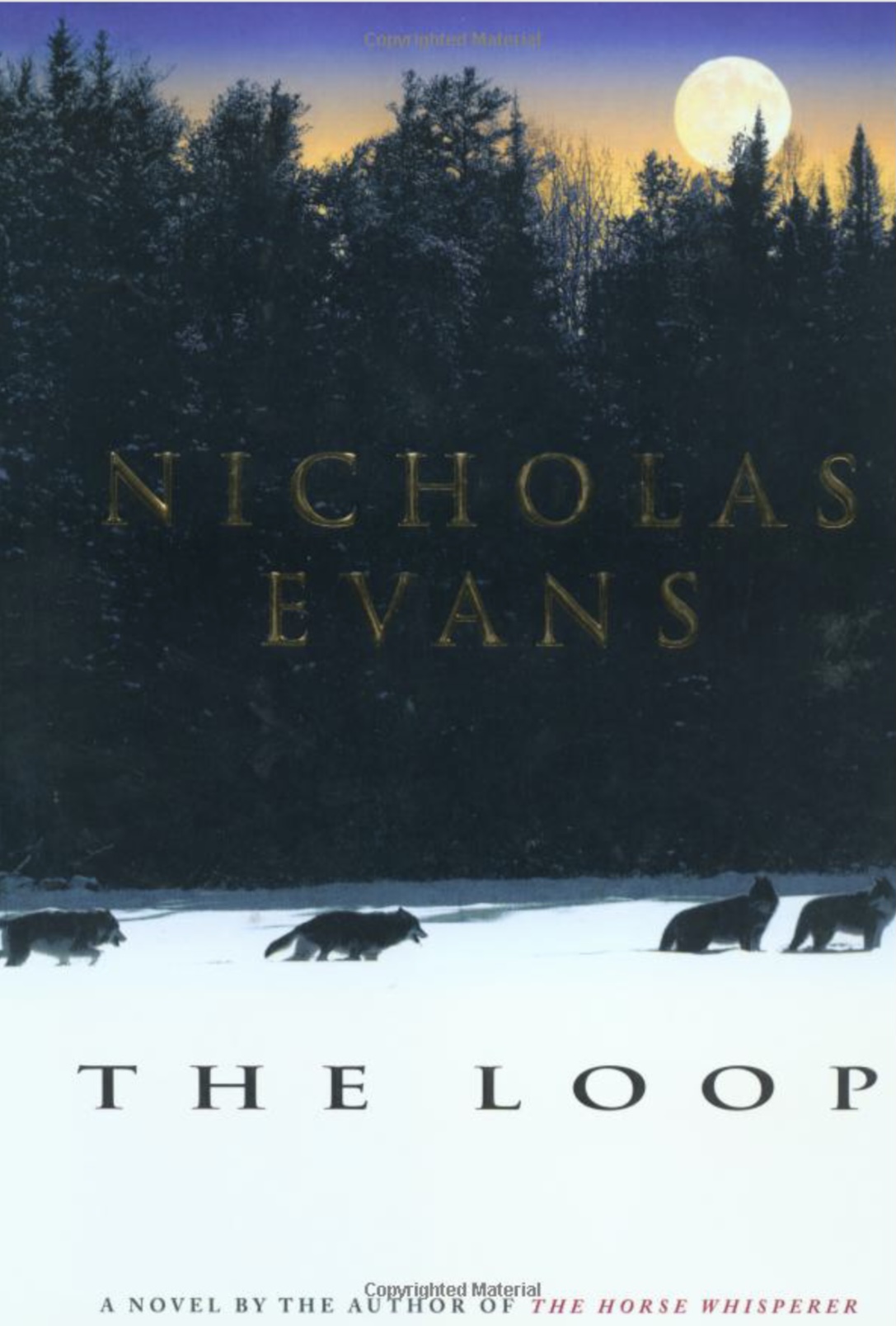 Over the past few years I've read non-fiction books about wolves in Yellowstone. Some follow one wolf's life, others talk more generally about the reintroduction of wolves in 1995 into Yellowstone. A couple are by Rick McIntyre who has been involved with wolves in Yellowstone since then. He is retired now but still goes out every morning to watch wolves, we met him on this recent trip to watch wolves.
Lamar Valley
The word "beautiful" doesn't fully describe the Lamar Valley. It's enormous and vast and full of variety and color and wildlife. Driving through the valley there is always something to see: snow peaked cliffs, winding rivers, purple, violet and orange willows, dark green forests, and yellow fields sprinkled with sagebrush. And of course wildlife. Especially bison. I am sure we saw over 1000 bison each day.
Lamar Valley is so different from the rest of Yellowstone National Park which is mostly forest. There is something very special about the wide open spaces of Lamar Valley.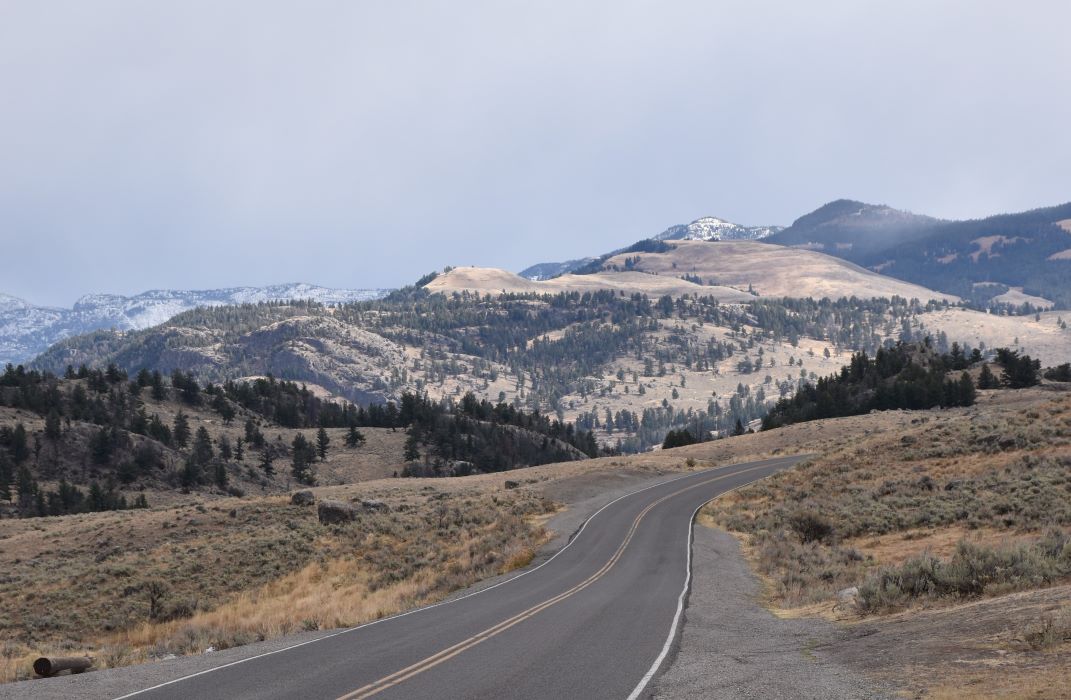 Cooke City, Montana
We spent two nights at the Super 8 Motel in Cooke City. Nothing about our time in Cooke City was what I expected.
Cooke City is an old mining town of 75 people with only one paved road which is the highway running through town. And it wasn't paved until 2009. The town is at the foot of the Beartooth Mountains at an elevation of 7608. It's just beyond the northeast park border and is a great jumping off point for wolf watching in Yellowstone.
The town began in 1870 as a mining town. Not far from town are some old mining huts dating back to that time. We would have loved to see them, and the man at the front desk of our hotel recommended visiting them. But there were a few caveats: he said we needed about 16″ of clearance under our car to get up the unpaved bumpy road to see the mining huts. And we needed a 4 wheel drive but not a big one because the road becomes narrower and narrower and "you might need to back down the mountain". So we decided to pass on that little adventure.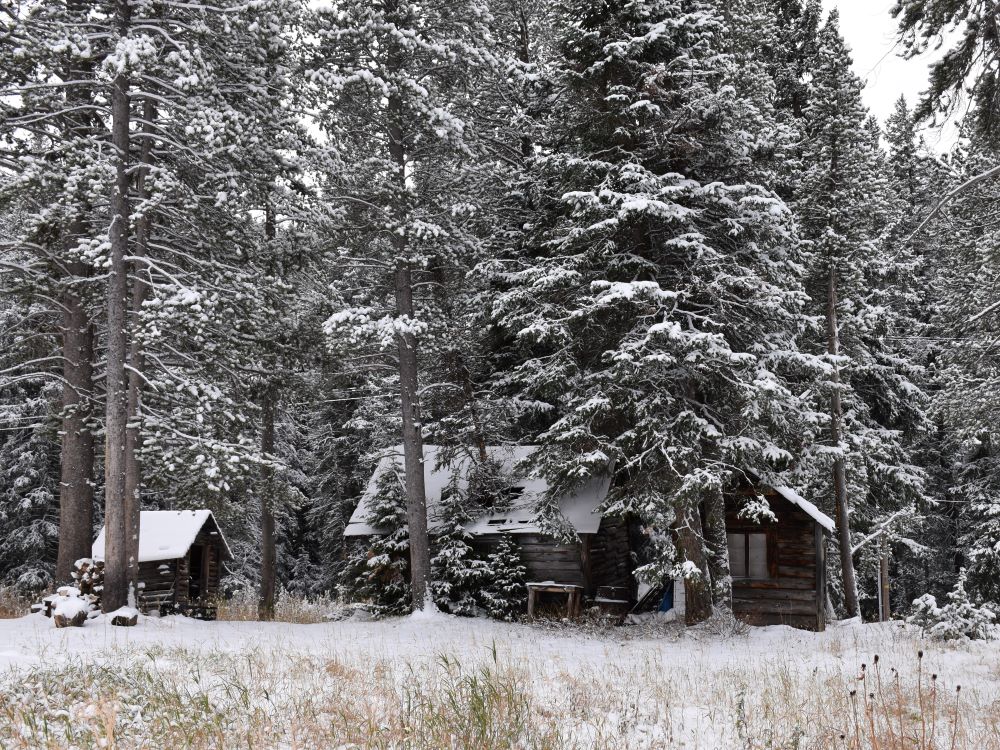 Being set right in the middle of a forest on the side of a mountain, the little cabins on the outskirts of town are nestled among the pines. There were foxes running around the parking lot of the hotel and we spotted a bison standing in front of someone's house as we drove out of town.
Next to the hotel was an abandoned building which looked like an old hotel. The helpful man at the front desk explained it was a brothel back in mining times. The building still stands albeit in disrepair. Foxes live in the building now.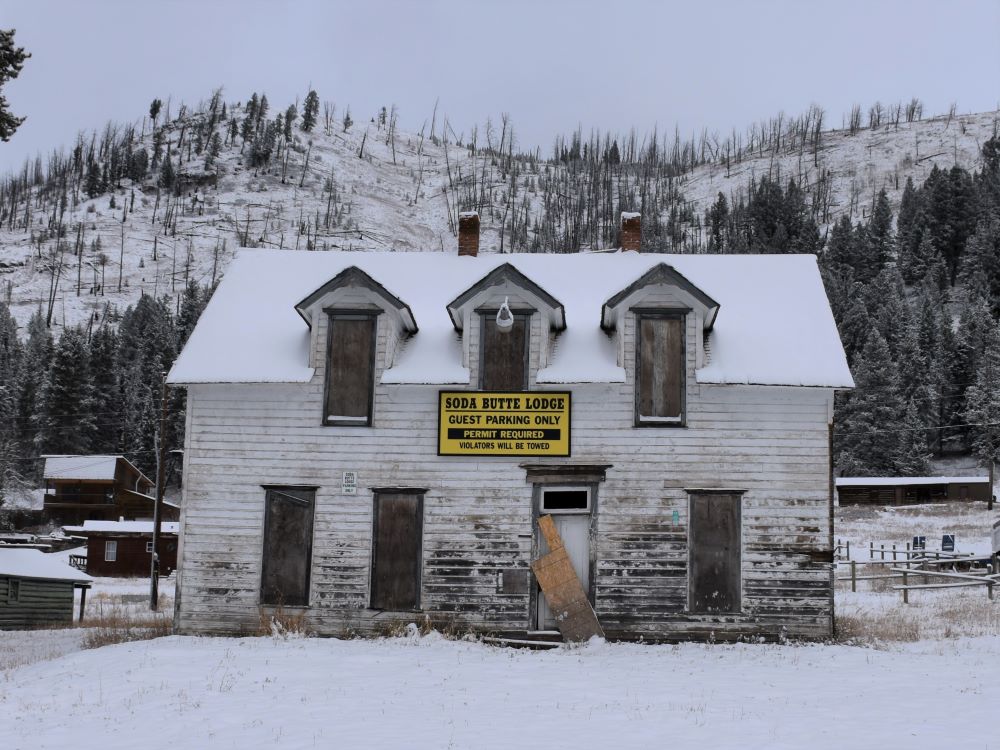 Every establishment in town seemed to have a lot of character. We got dinner one night from the Miner's Saloon. At Bearclaw Bob's Bakery you can also rent ATV's and sleds and snowmobiles. And it's "your source for avalanche equipment". This is typical for small towns when proprietors need more than one kind of business to get through the seasons. Maybe it's more of a cold weather phenomenon.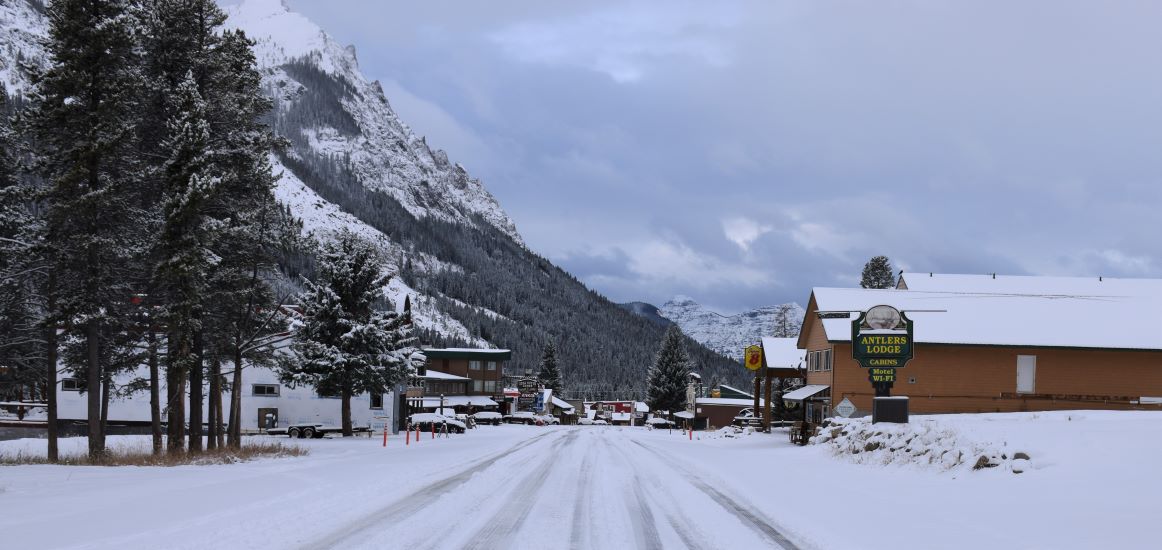 Cooke City is certainly a unique place and it's always fun to experience a place that is so different from where I live.
Back home through Yellowstone
On the drive through Yellowstone back to Jackson Hole we stopped to see some of the thermal features.
This was an amazing trip, and not just a trip but an adventure! I'm very thankful to God for all the beauty we witnessed, the wind, the snow, the expansive landscape, and especially the wolves. Wolf watching in Yellowstone is something we plan to do again.