This is a review for the Vortex Optics Razor HD Spotting Scope. We did a lot of research to find the best scope in the $700 to $1600 range and this is the one we landed on. We purchased it in 2020 and have been thrilled with it.
The Vortex Optics Razor HD Spotting Scopes come in a VARIETY of magnification and price points. We have found the Vortex Optics Razor HD Spotting Scope 27-60×85 to provide bright, high-contrast wildlife and landscape images at close magnifications and far. This is a high quality scope with high grade lenses, which makes a difference. We use an inexpensive Cell Phone Adapter Mount to take photos and we get great photos. We use this spotting scope every single day, there is always something outdoors to look at.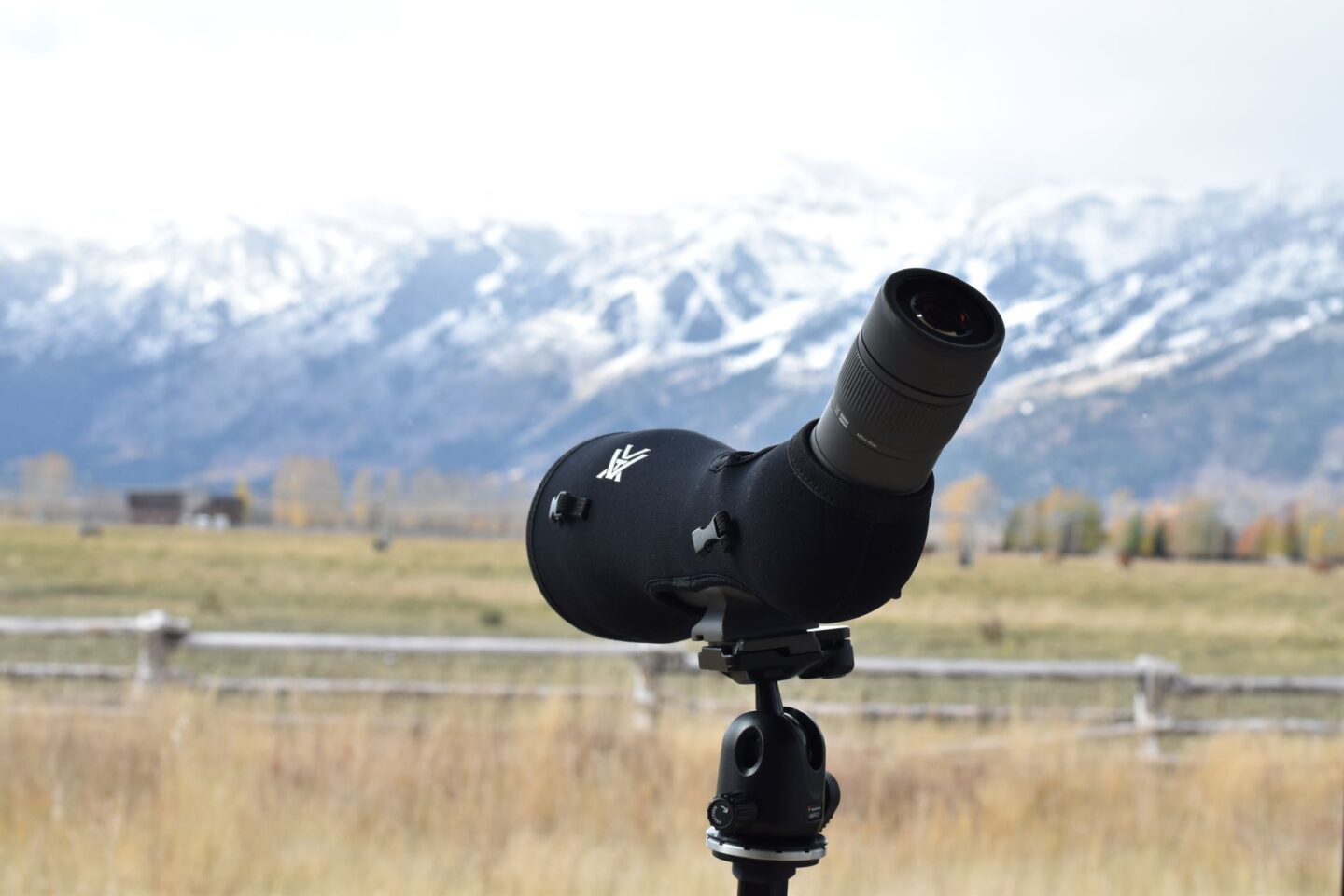 What is a Spotting Scope?
A spotting scope is actually a small telescope (like one uses to look at stars and planets) but it has been modified for daytime use, and it's much smaller. It requires a tripod for mounting and viewing.
As an Amazon Associate, I may earn a small commission at no cost to you if you purchase a product I linked to. This helps me with the cost of running this website. Thank you!
Why do you want a Spotting Scope?
It's important to define why you want a scope. Spotting scopes are useful when you want more magnification than a good pair of binoculars can provide. Spotting scopes pick up in magnification where binoculars stop.
Here in Jackson Hole, WY we have the opportunity to watch elk, moose, wolves, eagles, hawks and many other kinds of wildlife and birds. We specifically wanted this scope for wolf watching in Yellowstone National Park but we have it set up permanently in our living room to watch any anyimal that walks, runs or flies by!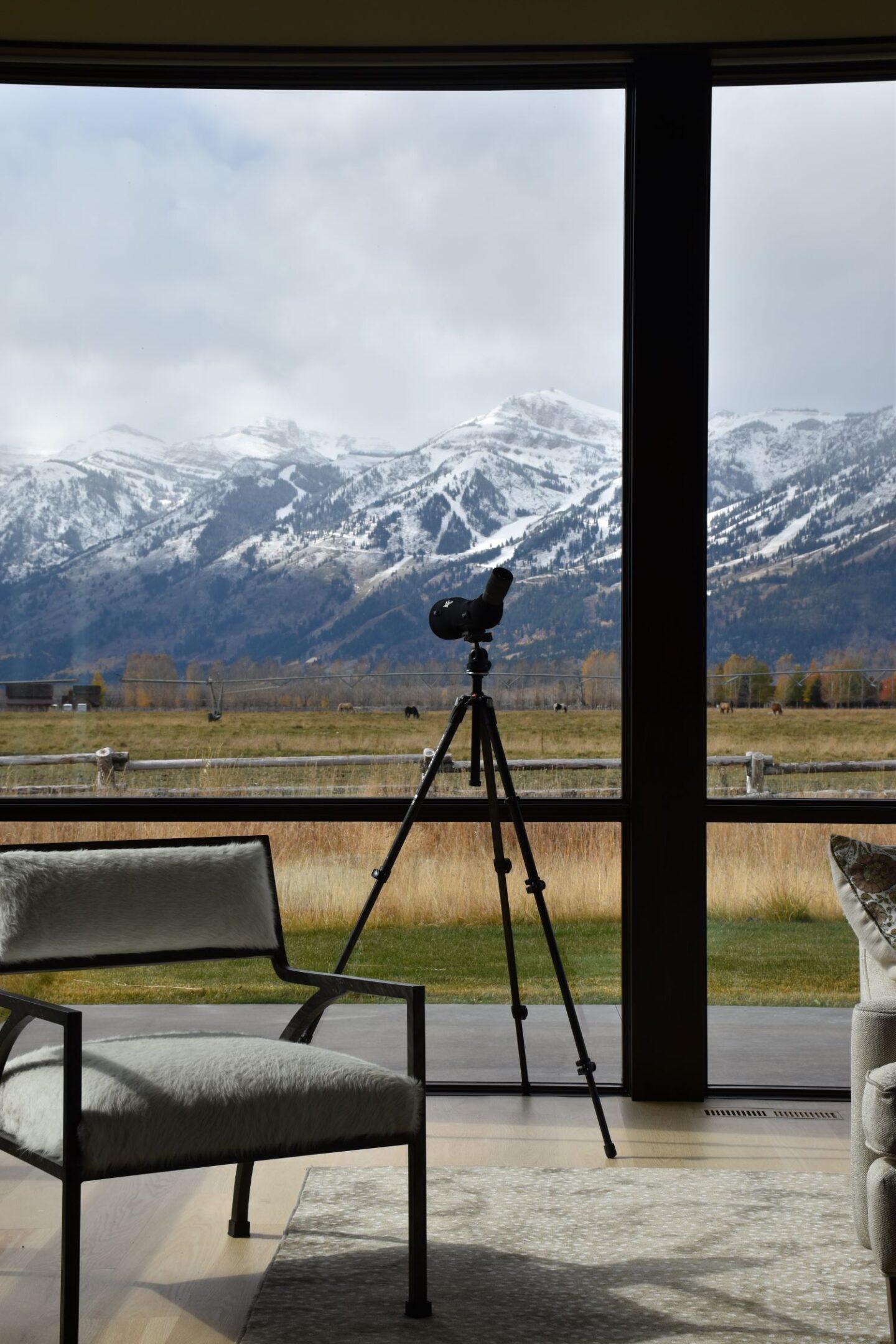 What to look for when purchasing a Spotting Scope
Spotting scopes have three main properties and these are represented by 3 idenifying numbers for the scope.. The first two numbers represent the magnification range and the last number is always the size of the front lens.
The first two numbers represent the Magnification Range
These two numbers give you the RANGE of magnification. For example the one we purchases says 27-60 x 85. So the magnification is 27x to 60x.
The third number represents Objective Lens Diameter
The objective lens is the large lens at the front of the scope, measured in millimeters or mm. This lens is light-gathering and the larger the diameter, the more light will be allowed into the scope. And more light means clearer and higher resolution images. The scope we bought has an objective lens diameter of 85, which is pretty high. Higher is better, at least 60mm is recommended, especially if you want to take photos through your scope. because of the brightness the larger lens lets in.
Angled vs. Straight
This is personal preference, there is no difference in visibility or weight, or usually price. We chose the angled spotting scope because it's easier on your neck to look down into the eye piece. And more than one person can come along and peer down into the eyepiece easily without adjustments for each individual. It was just more comfortable to use for us.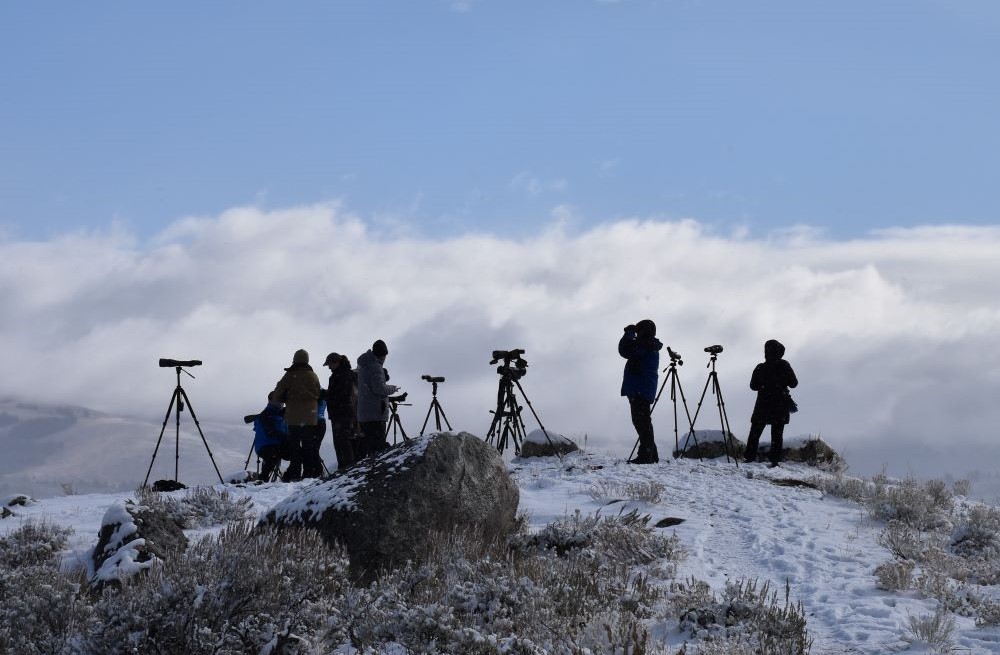 Don't forget
Besides the scope, you will need a TRIPOD and a TRIPOD BALL HEAD so you can swivel the scope around since wildlife usually moves. We recommend a Manfrotto tripod. You may also be interested in an inexpensive Cell Phone Adapter Mount for your cell phone so you can take photos or video through the spotting scope.
You get what you pay for
Just like a camera, the quality of the lenses are important in spotting scopes. So just because you choose a large objective lens diameter and high magnification, the spotting scope neads to be of good quality to give you a high quality image at distance. With spotting scopes we have found that, like many things, "you get what you pay for".
I hope you found this reveiw useful. We have loved having a spotting scope to watch wildlife and birds, and I can't believe we waited so long to get one.